News
»
Go to news main
ACCESS program still going strong — virtually
Posted by
Dawn Morrison
on May 19, 2021 in
News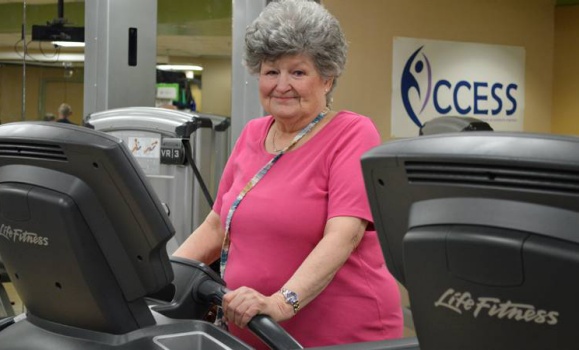 In 2018, an innovative cancer research study led by Drs. Melanie Keats and Scott Grandy (School of Health and Human Performance) in partnership with the Nova Scotia Cancer Care Program was launched. ACCESS (Activating Cancer Communities through Exercise Strategy for Survivors) brought exercise more closely into cancer treatment and care and was designed to lessen the impact of cancer diagnosis and treatment on participants.
Fast-forward three years and the program is still going strong, despite challenges imposed by COVID-19 restrictions.
"When COVID-19 first hit, the lab shut down. We had 35 active participants and 46 on a waiting list," says Dr. Keats. "We closed the door on over 70 people, not because we wanted to but because it was the safest thing to do."
During the initial shut down, the team brainstormed how they could get the program out to the people who still needed it. They decided to offer classes virtually and found that doing so had some benefits.
"We realized that offering virtual classes gave us more flexibility. In the past, ACCESS was limited to the Halifax Regional Municipality and Truro. The nice thing is that now that we're online, we have participants from across all of Nova Scotia and beyond, which was one of our goals," Dr. Keats says. "The downside is the lack of face-to-face contact with program participants, but COVID forced us to adapt to a new model which is more convenient for some and allowed us to extend our reach."
Dr. Keats and her team were recently part of a successful Canadian Cancer Society/CIHR Cancer Survivorship Team Grant providing $2.5 million in funding to make exercise programming for individuals living with a cancer diagnosis more widely accessible to Canadians living in rural/remote locations. Dr. Keats is the Atlantic hub lead for this newly funded initiative (EXCEL; EXercise for Cancer to Enhance Living well) and is excited to be able to support exercise programming for more Atlantic Canadian cancer survivors.
"Since we've been forced to go virtual, we can accommodate just about anyone," says Dr. Keats.
For more information on either the ACCESS or EXCEL programs, or to become a program participant, contact: Dr. Melanie Keats at melanie.keats@dal.ca.
Related stories:
Read about MSc Kinesiology student Joy Chiekwe, a Clinical Exercise Physiologist and the program coordinator for ACCESS, and her involvement in the newly formed Black Wellness Cooperative. The Cooperative is a group of Black health & wellness professionals in Nova Scotia dedicated to creating connections in underrepresented communities.