News
»
Go to news main
A legacy of care: Alumna Shirlie Dent honoured with a new annual bursary set up by her daughter
Posted by
Dawn Morrison, with files from Susan
on May 3, 2021 in
Alumni & Friends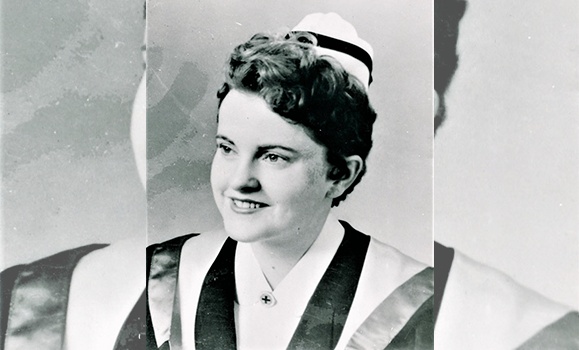 Shirlie (Clay) Dent (BSN'58) had a career in Nursing that spanned four decades before her retirement, something she accomplished while raising two children during her husband's 34-year military career when he was frequently absent. When asked about these accomplishments Shirlie is humble, but those closest to her are not shy about singing her praises.
"Shirlie is an example of someone who has devoted her life to helping others," says her husband of 59 years, Leonard Dent. "Shirlie is always modest but she was a highly respected and incredibly caring nurse who always went the extra mile for every one of her patients. Even when she was in university, she was the one all her friends looked to for advice and support. Everything she has done over the years has been focused on caring for others."
Now this legacy of care is being acknowledged with a new award to benefit Dalhousie students, which was set up by her daughter, Susan. The Shirlie Dent Bursary in Nursing will provide an annual bursary in Shirlie's honour to one or more students enrolled in any year of the Bachelor of Nursing program. The award will benefit a student from Prince Edward Island, and other Atlantic Canadian provinces.
Shirlie is thrilled with the award, and the chance to once again be of service to others. "This is a really wonderful initiative. In my day, hardly anyone went to university that I knew, especially women. But my father was a self-made man who graduated from McGill. He was a very strong advocate of higher education, and he passed that along to me. Our family is especially proud to be helping Dalhousie students who are in financial need while they pursue their education."
From PEI to Florida and beyond
Shirlie attended Prince of Wales College in Charlottetown, PEI from 1950 -1954. Here, she completed the last two years of high school and the first two years of pre-medicine.
She attended Dalhousie University in the fall of 1954 for a year before she attended the Victoria General Hospital School of Nursing, graduating with a Bachelor of Science in Nursing degree.  It was only the second year that Dal offered the program, which combined university and hospital training. There were only three in her class at the time.
Following graduation, Shirlie returned home to Charlottetown and for a year worked in a psychiatric hospital as a staff nurse and in a teaching capacity. Deciding to see a little more of the world, in the Spring of 1959 she moved to Tampa, Florida and worked as an RN at the Tampa General on Davis Island for a year.  She moved back to Canada in 1960 and took up a nursing position in the psychiatric unit at the Victoria Hospital in London, Ontario.
From there, she held positions in hospitals as a staff nurse, taught nursing and worked in cardiology. She married Leonard In February of 1962. Over the years, their family has lived in Newfoundland, Nova Scotia, Manitoba, Ontario and Lahr, West Germany.
"I didn't want to stay in one place, I wanted to travel," she says. "Luckily, I married a guy who also liked to travel," she says. Shirlie retired from nursing in 1995 at the age of 60.
Now through the Shirlie Dent Bursary in Nursing, she continues to provide care and support to students with financial difficulties, helping them to achieve their dreams.