News
»
Go to news main
Normalizing inclusive community pharmacies
Posted by
Niecole Killawee
on April 23, 2021 in
News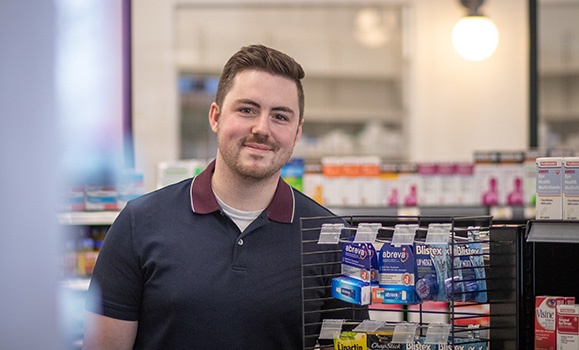 Last month Greg Richard (BScPh'16) opened Boyd's Pharmasave in the north end of Halifax, N.S. The pharmacy, named after Richard's grandfather in tribute to his entrepreneurial spirit, is the young pharmacist's first business pursuit.
"It feels great. I'm doing what I always wanted to do," says Richard. "When people come in and they're genuinely excited about what we're offering and what kind of space we've created, that makes me really happy."
Richard had what many small business owners long for when they open up shop: news coverage. Boyd's Pharmasave made headlines during its opening week because it proudly offers a judgment-free place for hormone therapy patients to fill prescriptions and receive testosterone injections on site and free of charge. These services are part of Richard's commitment to create a safe and welcoming space for everyone and, in particular, members of the 2SLGBTQ+ communities.
"We're building a pharmacy for the community," says Richard. "We're creating affirming spaces for all types of folks, no matter their background. We want them to feel safe and to feel heard."
Richard says a career as a pharmacist just seemed to click with his personality, in large part because of how people-focused the job can be. Pharmacists, like family physicians, need to be trusted with deeply personal information and that requires a lot of relationship building over time.
That trust is key to better patient care, says Richard, and it's exactly why he wants his pharmacy to be visibly inclusive.
"These folks go through so many challenges in their life to get to the point of being ready to transition," he says. "To be faced with further barriers or obstacles, I think, creates bad experiences that eventually breakdown that trust between the patient and health-care professionals."
To make it clear that all are welcome at Boyd's, there are detailed patient intake forms, on-duty staff signage and business cards listing preferred pronouns, and a pride flag on display. Plus, staff have additional training in creating affirming spaces.
Richard envisions a future where pharmacies like his are no longer considered newsworthy.
"Every health-care professional should have the capacity to offer these types of services… to understand what these patients have faced and the challenges that come with this kind of therapy," says Richard.
To help create that kind of future, he's taking on a student workforce this summer. Dal Pharmacy students will have the chance to see how much of a difference a thoughtfully created environment can make in patient interaction and care.
Eventually Richard hopes to offer more specialized prescriptions at Boyd's, like pre-exposure prophylaxis, or PrEP, which is a treatment for the prevention of HIV. Given the complexities involved in such a prescription, it will first require establishing a collaborative practice agreement with a nurse practitioner or physician.
For now, Richard heads into his second month of running Boyd's Pharmasave with a continued commitment to making it best reflect the community it serves. Boyd, his grandfather's name, is an ever-present reminder of why he decided to open his own business in the first place.
"He had a love for people and a love for helping others through his own businesses," says Richard. "To have somebody come into the pharmacy and say that what we're offering is removing stress from their lives? That's pretty rewarding."