News
»
Go to news main
Dr. Theresa Tam gives kudos to Dal course on addressing stigma in Canada's health system
Posted by
Terry Murray-Arnold with files from DAL IPHE
on February 9, 2021 in
News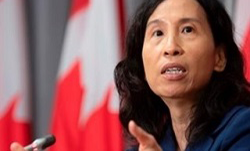 To say Canada's CPHO (Chief Public Health Officer) Dr. Theresa Tam is busy these days would be an understatement. Dr. Tam is the lead health professional in the country and advises Canada's public health response to the COVID-19 pandemic. Recently, Dalhousie University Faculty of Health's Dr. Sherry Huybers (School of Health and Human Performance) was pleasantly surprised to get kudos and a personal thank you from Dr. Tam. (PHAC photo).
Interprofessional Health Education (IPHE) coordinator and instructor Dr. Huybers, Assistant Vice-Provost Equity and Inclusion and assistant professor Dr. Barbara Hamilton-Hinch, and their team turned Dr. Tam's 2019 report on addressing stigma in the health system into a successful Dal IPHE mini-course during a global pandemic.
The course, Addressing Stigma in the Health System, attracted close to 120 students from Dalhousie's Faculties of Health, Medicine and Dentistry and got the attention of the CPHO's office. The course participants gave rave reviews.
Addressing Stigma in the Health System was so successful that Public Health Agency of Canada (PHAC) colleagues have reported that they would like to see this type of knowledge translation expanded. "PHAC would like to see this scaled up and have it at other universities," said Dr. Huybers.  
I commend Dalhousie University in their efforts to shine a light on the inequitable impacts arising from the pandemic and championing equity-based solutions that will improve Canada's ability to respond to future public health emergencies." Dr. Theresa Tam
Kudos from CPHO's Office
At the conclusion of the mini-course, Dr. Huybers sent a report with the participant survey results to her colleague Donna Malone, a senior advisor Atlantic Region of the Public Health Agency of Canada. Ms. Malone forwarded the information in turn to Dr. Tam's office as a follow-up. Ms. Malone reported that her CPHO co-workers in Ottawa passed on that the news generated much excitement in their office about the initiative and that when Dr. Tam was briefed on the mini-course and she responded with "Brilliant".
With such positive feedback from the CPHO's office and Dal students, the IPHE team is looking forward to doing a similar mini-course in the winter semester that will have students examine Dr. Tam's latest report 'From Risk to Resilience: AN EQUITY APPROACH to COVID-19: The Chief Public Health Officer of Canada's Report on the State of Public Health in Canada 2020'.
Dr. Tam was pleased to learn that the University had already launched a course based on her 2020 report and passed on a message to the health, medicine and dentistry students who had taken the course
 "I am excited that Dalhousie University has created this course to explore my 2020 annual report, 'From Risk to Resilience: An Equity Approach to COVID-19'. I am confident that our community, led by younger generations such as yourselves, will rise to the challenge to advance public health and health equity with dedication, compassion, and excellence. I thank you as Chief Public Health Officer of Canada for your interest in the health field…," she wrote. 

Dal Mini-courses offer health faculty students an opportunity for interprofessional learning outside of their program curriculum.
The concept for the course sprang from a meeting held with Dr. Tam in fall 2019, hosted by Healthy Populations Institute (HPI) Scientific Director and health promotion professor Dr. Sara Kirk.
"During the meeting with Dr. Tam, her t report on stigma and the health system ['The Chief Public Health Officer's Report on the State of Public Health in Canada 2019 Addressing Stigma: Towards a More Inclusive Health System'] came up," Dr. Huybers explained. "Her office wants people to read the report — especially students in the health programs as it is very relevant information for them to have."
Population Health Impact
Dr. Huybers and team designed the mini-course to introduce students to health inequalities and inequities in context, stigma as a public health issue, and building an inclusive health system. The goal was to have students gain an understanding of stigma drivers and practices and learn about interventions and promising practices.
Some populations in Canada such as First Nations, Inuit, and Métis peoples and African, Caribbean, and Black Canadians, among others, experience a disproportionate burden of poor health outcomes. When these poor health outcomes are a result of unfair conditions they are referred to as health inequities. One of the drivers of health inequities is stigma.
The course covered stigma issues in health care faced by marginalized populations, as well as people living with obesity. "It was quite inclusive in including people living with obesity," said Dr. Huybers.
"Dr. Tam's 2019 report really feeds into the other IPHE mini-courses we offer," Dr. Huybers explained. "Dr. Kirk leads a mini-course specifically on weight bias in health care [Interprofessional Client‑centred Approaches to Reduce Weight Bias and Stigma] and Dr. Hamilton Hinch facilitates a mini-course on the barriers African Canadians face in accessing equitable health care [Centering Black Canadian Health]. Addressing Stigma in the Health System was a good pre-cursor to those and other courses."