Establising a Baseline: Active Transportation and Health Indicators in the Halifax Region
Author: Nova Scotia Health Authority (NSHA)-Public Health Central Zone
NSHA-Public Health, Central Zone has collaborated with several organizations, including the Healthy Populations Institute, through a multi-disciplinary working group to expand the Halifax region's knowledge of active transportation and health trends. This report encourages increased investment in and support for active transportation and provides a strategy to support similar efforts in other communities and health zones.
Read the Executive Summary [pdf - 563 KB]
Read the Full Report [pdf - 4.5 MB]
If you are having trouble opening this document try using a different internet browser or contact amber.walker@nshealth.ca for a copy.
Mahone Bay Launch of "There's Something in the Water: Environmental Racism in Indigenous and Black Communities".
Date: May 25, 2018
Starts: 7:00pm
Ends: 9:30 pm
Location: Mahone Bay Centre, Ralph Hennigar Room
45 School Street, Mahone Bay, NS
Join author Dr. Ingrid Waldron as she launches There's Something in the Water: Environmental Racism in Indigenous & Black Communities. This book is an expose of the environmental injustice practiced by the government of Nova Scotia against it's marginalized communities.
Ingrid R. G. Waldron is an associate professor in the Faculty of Health at Dalhousie University and the Director of the Environmental Noxiousness, Racial Inequities & Community Health Project (The ENRICH Project).  This is a free event - everyone is welcome. Books will be available for purchase.
More about: "There's Something in the Water"
Co-sponsored by Council of Canadians - South Shore Chapter.
Froogie App Wins Another Award 
 
Less than 1 in 10 Canadian youth are eating the recommended amount of fruits and vegetables. With funding from Heart & Stroke and Canadian Institutes of Health Research, and leading edge research led by Dr. Sara Kirk of the Dalhousie Healthy Populations Institute, WeUsThem designed a fun, creative solution that ensures families maintain a healthy diet.
WeUsThem has been internationally recognized with a Gold Davey award, for their work on Froogie.
"I am thrilled that the Froogie app has won this award. Healthy eating and active living are two of the most important things we can do to improve our general health and wellbeing. Eating more fruits and veggies is an easy change we can make for a big impact and the Froogie characters are a wonderful way to engage children and families in healthy eating.", says Dr. Kirk. "I love the creativity that the design team at WeUsThem brought to the app and I am so proud of the app and what it has achieved in such a short time since launch"
Read more about Froogie  
A public panel and discussion
Friday, June 29th - 3.30-5.30 p.m.
Paul O'Regan Hall, Halifax Central Library
Sponsored by:
The Jean Monnet European Union Centre of Excellence,Healthy Populations Institute, MacEachen Institute, Faculty of Health, Faculty of Arts and Social Sciences, Dalhousie University, and Halifax Public Libraries present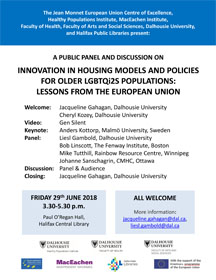 Trans Youth Health Report Atlantic Region - Final Report Launch
We are very pleased to share with you the final report from our "Being Safe, Being Me in the Atlantic Provinces: Results of the Canadian Trans Youth Health Survey".
We will be hosting a public event on May 17th from 6 pm - 8 pm at the Art Gallery of Nova Scotia auditorium and we hope you will join us. This free public talk will offer highlights from the report as well as updates from local trans youth serving organizations.

Crossroads photos by J. Nguyen
Crossroads 2018
Congratulations to the student organizers for another great Crossroads conference. Here are the oral presentation and poster winners winners.