News
»
Go to news main
'We became a PT family': MSc Physiotherapy grad on what she'll miss most
Posted by
Dawn Morrison
on November 9, 2020 in
News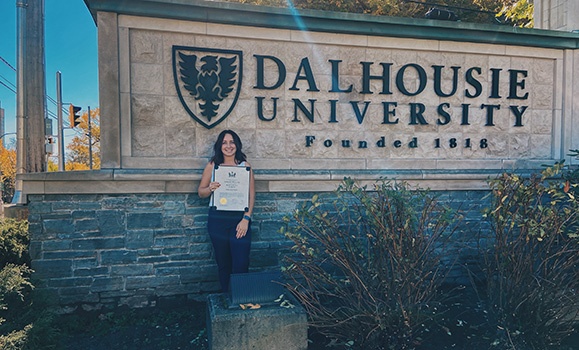 Convocation Q&A: Holly Nason, Master of Science (Physiotherapy)

Congratulations to all of our Faculty of Health graduates this fall! To celebrate Fall Convocation 2020, we chatted with students from across Dal Health. Today's Q&A profile features Holly Nason, a Master of Science (Physiotherapy) graduate from Fredericton, New Brunswick.

What does it mean to you to receive this degree?
It truly means a lot to me to receive this degree! I have worked really hard over the past seven years and to come to this point where I have finished all of my schooling is very rewarding.
What were some of the highlights of your degree program?
I couldn't mention some highlights of the program without mentioning the amazing people I have met along the way! From classmates to professors to clinical instructors, this degree has given me the chance to meet some people that have shaped me into who I am today. I was also given the opportunity from my fellow classmates to be the First Year Representative and then the President of the Student Society. In these roles I was able to work as part of a close knit team with the rest of the Student Society and ensure we were able to organize and plan various events for the students during orientation and throughout the year. Other highlights include our Physiotherapy Ball in 2019 & 2020 as well as being For The Health Of It Champions for two years in a row!
What brought you to Dal and to your program specifically?
I was always interested in helping people and playing sports growing up so I felt that physiotherapy blended those things together perfectly! I got into both the University of Toronto and Dalhousie University and chose Dalhousie because of its closeness to my hometown. I knew that I would want to be able to visit my family and friends back home often so Dal was the perfect choice.
Describe any practicums you've had and how they have shaped your education.
Over the course of the two years I have had some pretty great clinical placements in various areas of physiotherapy practice. All of my placements being in the public setting really showed me where I wanted to be following the completion of my degree. Being able to work with patients and learn from my clinical instructors was an amazing opportunity that I am glad I was able to have as part of my schooling.
What first made you want to work in the field of PT?           
I think that the first thing that made me want to work in the field of PT was going to physiotherapy myself when I was growing up playing soccer. Then during my undergraduate degree I was able to take courses as well as the opportunity to job shadow at a Physiotherapy Clinic that gave me more insight into the profession and I realized that it was what I wanted to do!
What will you miss most about your time in the PT program?
I will definitely miss my classmates the most. Going through such a difficult program really brought us together and we became a PT family. We had a lot of good times together and I hope that one day in the future we can celebrate our achievement of graduating together!
What was your biggest learning experience?
I think the biggest learning experience for me was transitioning from an undergraduate degree to a graduate degree. Specifically, the amount of time and work required to complete homework, readings, lab preparation, and study for tests and finals. At times it could be a lot but I had an amazing support system behind me that I would not have been successful without!
How did COVID impact your studies?
We had only been four weeks into the final semester of our degree when COVID prompted a quick shut down of in-person activity  and we had to transition to online course material. Fortunately, the faculty and staff were able to transition us quickly and we were able to finish our semester on time. Then over the summer and into the fall we completed our final two clinical placements which concluded our degree requirements for the School of Physiotherapy. Unfortunately, due to COVID both of our written and Practical National Physiotherapy Competency Exams were postponed therefore prolonging when we can enter the workforce. Most of us were able to write our written exam in September and we are currently still awaiting results which are required before we can work.
What's next for you?
Well currently I am awaiting my results for the written PCE so hopefully I will pass that and be able to find a physiotherapy job in Halifax or the surrounding area! I hope to work in the public sector and cannot wait to start helping people with their physiotherapy needs!