News
»
Go to news main
'We breathe for you': Inside the world of a respiratory therapist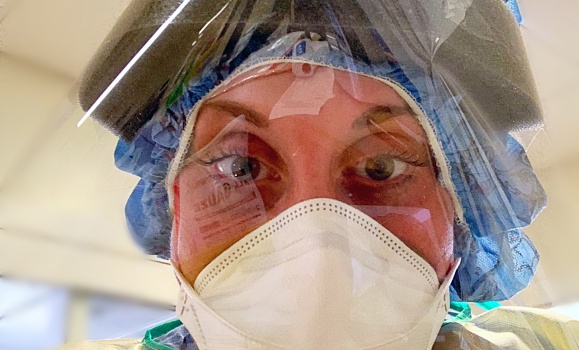 Q&A: Melissa Miller
To celebrate Respiratory Therapy Week, we did a Q&A with Melissa Miller. Melissa received a Diploma in Health Sciences with Respiratory Therapy in 2017, and currently works as a respiratory therapist at the Queen Elizabeth II Health Sciences Centre.
Brief job description:
We see anyone in the hospital who is having difficulty breathing or need oxygen. This includes but not limited to seeing people with asthma attacks, Chronic Obstructive Pulmonary Disease (COPD) exacerbations, attending traumas in emergency, carrying the cardiac arrest (code blue) pagers, working in the ICU with post-op patients and anyone who is in a coma. We are the ones in charge of the ventilators, we pretty much breathe for people, working the life support machine.
How long have you been a respiratory therapist (RT)?
I've been an RT since 2017.
Why did you want to become a respiratory therapist?
To be honest I had no idea what a respiratory therapist was when I applied. I had taken a kinesiology degree and did not know what I wanted to do after it. I did some research and thought the program learning about lungs and hearts sounded super cool. I had no idea what I was getting into, but it was meant to be because I LOVE MY JOB!
What are your favourite aspects of your job?
I absolutely love helping people! It's very rewarding being able to save lives and help people recover. It's a very social job and you never know what will happen in a day. I'm never bored!
What are the biggest challenges?
A huge challenge we face is not being known. We get mistaken all the time for nurses and doctors. It makes it hard when people don't know who we are even though we are also part of the team that saves lives. It's hard sometimes to not be recognized for our work because we play a critical role. With COVID-19 we are trying very hard to make our profession known. Because COVID-19 is a serious respiratory illness and people can end up on ventilators, people are more educated on what a ventilator is. We want people to know that we are the ones who run the ventilator (we breathe for you!). We do much more than that but we want people to know who we are!
The other challenge is losing patients. We run the ventilators but we also turn off the breathing machine. That can be very hard mentally. We put in so much work to try to save patients so when our efforts aren't enough that can also be exhausting.
What has surprised you the most since becoming an RT?
I think the biggest surprise is that I had no idea what a respiratory therapist did before becoming one. I didn't realize how critical our role is within the hospital. We are everywhere in the hospital: floors, Intermediate Care Unit (IMCU), (Intensive Care Unit) ICU, clinics, Post Anesthesia Care Unit (PACU), Operating Room (OR), Emergency and so many other places.
What does a typical day at work look like for you?
We work shift work and cover 24 hours. This means we can have some long days. We begin every shift with a report of the patients we will be seeing for the day. We need to know what's going on so we can provide the best care and advocate for our patients. We then spend the day assessing our patients. We cover many different areas so we could get many calls.
We could be seeing our daily patients and then get a call to see a patient in emergency with an asthma attack. Then we could get a call to a cardiac arrest because someone on the floor had a heart attack. We perform CPR and then have to go back to our patients' care. We could then get a call to the ER for a trauma because someone was in a major car accident. We then may get called to withdraw care on a patient who is brain dead. We never know when we will get a break or have a lunch, but we all love helping people so it's worth it. We finish our day by giving report to the next RT coming on.
Because respiratory therapists work all over the hospital, they're exposed to some pretty heavy situations. Queen Elizabeth II Health Sciences Centre is a Level I Trauma Center, meaning we provide total care for every aspect of a patient's injury, which means the real serious stuff comes our way.
How has COVID-19 changed your work?
COVID-19 has tremendously changed our job. The pandemic has allowed others to see how important we are on the front lines. We are in the room with the doctor and nurses and it's important for us to be recognized for how dangerous our job can be.
So many new policies have been created to better protect us because we are the ones dealing with all the respiratory issues. Some of these illnesses can be highly contagious so we need to be very careful.
What would you like people to know about your profession?
The biggest thing is for people to know who we are and what we do. I want people to know what a respiratory therapist does when I tell them my career. It will take time and education but it's important. We save lives daily and it's hard to not be known.
What advice would you have for someone considering this field of work?
It's the most amazing and rewarding job. You see so many people recover from the craziest things. It can be difficult losing patients and you need to be prepared for those situations. It takes the right kind of person but it's worth every second to see people smile and help them breathe again.
Not being able to breathe is one of the worst feelings and it's very scary. Respiratory therapists help calm patients down and try everything we can to resolve the issue so you can breathe again! We are emotional support for people, we are coaches to help patients breathe, we are friendly faces in scary times.