News
»
Go to news main
PhD in Health grad used art to research society's influence on queer men's health
Posted by
Terry Murray-Arnold
on October 16, 2020 in
Students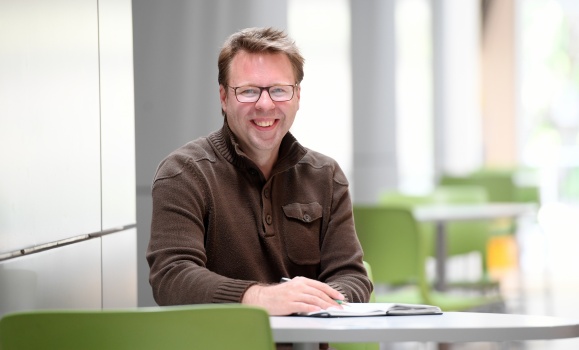 Convocation Q&A: Dr. Phillip Joy, PhD in Health

Congratulations to all of our Faculty of Health graduates this fall! To celebrate Fall Convocation 2020, we chatted with students from across Dal Health. Today's Q&A profile features Dr. Phillip Joy, a PhD in Health graduate from Maitland, Nova Scotia.

How significant is it for you to receive this degree?
I am the first one in my immediate family to gain my PhD. It gave me the opportunity to follow my goals of continuing my journey of learning.
What were the highlights of your degree?
I've had many wonderful opportunities during my degree. One that stands out in my mind is learning more about my theoretical methodology during my exchange at the Swedish School of Sport and Health Sciences in Stockholm, Sweden funded by Canadian Institutes of Health Research: Michael Smith Foreign Study Supplements.
What brought you to Dal and to your program specifically?
The PhD in Health program was a  relatively new program when I started. It was appealing to be a part of something new.
What will you miss about your time in the PhD in Health program?
The great faculty I was able to connect with and the other students.
What topics/research did you become passionate about during your education?
My research focused on how culture and society influenced eating practices, body image, and the health of gay men. It took an arts-based approach and I became passionate about such approaches. Through funding from CIHR, I was able to learn more about graphic medicine, or the use of comics in health. I was able, as part of a team of other students, to create a beautiful comic anthology, Rainbow Reflections: Body Image for Queer Men, that featured over 40 artists from around the world. My wish is to continue to incorporate arts-based approaches in health research. Art can be such a powerful and emotional impact in the health fields.
What was your biggest learning experience?
I had so many learning experiences during my PhD that it's hard to pick out my biggest learning experience. I see the world differently now.
How did the COVID-19 pandemic affect your studies/work?
COVID-19 impacted the final leg of my PhD journey. My dissertation defence moved online so it was just me and my committee speaking to each over through the video feed. It definitely was not the way I thought it would end.  
What's next for you?
I have accepted a position as an assistant professor at Mount Saint Vincent University in the Applied Human Nutrition Department. I will be teaching several nutrition courses and building my research program with a focus in LGBTQ2SP+ communities and health.