News
»
Go to news main
Dal Health Prof Approaches her Profession as an Art as well as a Science
Dal Health School of Nursing associate professor Dr. Lisa Goldberg (MA '90) would say her professional career as a nurse clinician, educator, and researcher began as a contemporary dance student. To some that may seem like an unlikely place for a nurse scholar to start, but to her it is perfectly logical.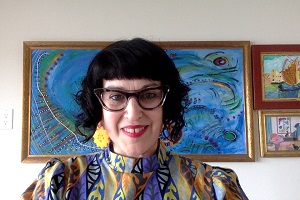 Dr. Lisa Goldberg (Provided Photo)
Dr. Goldberg went to the international Interlochen Academy for the Arts in Michigan to study dance for grades 11 and 12. "I was surrounded by other young artists from all over the world including poets, painters, actors and musicians. It was a fabulous experience," she said. 
She then went to Ohio State University where she continued to study dance in the Bachelor of Fine Arts Program. "I was there for two years but I burnt myself out by starting with the university dance company too early," she recounted.  Exhausted from the rigours of dancing, Dr. Goldberg returned home to Nova Scotia and transferred credits to earn a BA with a major in philosophy from Cape Breton University. 
Dr. Goldberg continued to study philosophy at Dal where she earned a Masters' degree, but felt like she had still not found her calling. "That was the challenge for me in studying philosophy; as a feminist, I felt I still needed a practice upon which to apply the theory. After she graduated from Dal, and spent a year studying English in Japan, she decided to become a nurse. "Although many couldn't see the connection, I saw it as my feminist, politized practice," Dr. Goldberg said.    
"Nursing is a big piece of who I am. It is a living, breathing extension of me and take it with me in everything I do." 
While her mother was supportive, many family and friends questioned her decision to study nursing.
They asked me, 'why are you going into nursing when you have no sciences and a Masters' degree in philosophy?' You should be going to medicine.' The idea was that you had to be in medical school to have a brilliant career and be a deep thinker and save the world. You can do all that and more as a nurse," she said.      
At nursing school, Dr. Goldberg developed a deep love for the profession and won a perinatal practice and professional development award.  After graduating from the Aberdeen School of Nursing in New Glasgow (1993), Dr. Goldberg worked in several US states, practicing perinatal nursing before she eventually returned to Nova Scotia where she worked in pediatrics for two years. She decided to return to academic studies, although remained practicing as a registered nurse while earning her PhD from the University of Alberta (2004). She commenced her position at Dalhousie in the summer of 2004.
Dr. Goldberg refers to herself as a feminist and queer phenomenologist. For her, this includes the exploration of the lives of historically underrepresented communities, particularly those who are 2SLGBTQ+ in contexts of birth and beyond. Such explorations further examine the systemic harms that can result from the institutional settings in which these community members seek care "The kind of work I do as a phenomenologist is grounded in philosophy, so my work has rather come full circle," she said. 
Artistry comes full circle 
Dr. Goldberg earned the Dal award for Excellence in Education Diversity in 2017. She attributes her success as an educator to connecting to her students with empathy. "It was a bit of a process at the start and I still don't get it right all the time, but it is about learning to guide my classroom from my heart," she explains. "Compassion must be front and centre. We each come with different stories; you must be able to step back and take that into account when you enter the classroom, particularly given our current landscape with a deep commitment to addressing anti-black racism and systemic discrimination toward all BIPOC. I approach the classroom with love. It still has boundaries, but it can be a very powerful tool to impact future nurses in profound ways," she explained. 
In one of her classes, Dr. Goldberg shares a creative, online space with the students she calls the "Tea Café" where students do artistic work, including an exercise about writing a haiku. "Some of the work they have done is brilliant and often reflective of equity, diversity and inclusivity (EDI) in nursing… this draws out the artist, the compassion, the nurse and the politic which is beautiful to see," she said.  This aligns with Dr. Goldberg's scholarship in caring science, an area she has been developing as part of her work as a certified caritas coach: a 6-month program she completed at the Watson Caring Science Institute in Boulder, Colorado (2014).
Her research also uses arts-based methodologies. In 2018, Dr. Goldberg and a team of other researchers partnered with a playwright to bring their research on queer women's birth stories to the stage. The play "What to Expect When You Aren't Expected" featured the stories of queer women who felt ignored and often discriminated against by the health system because they did not fit the traditional definition of parents.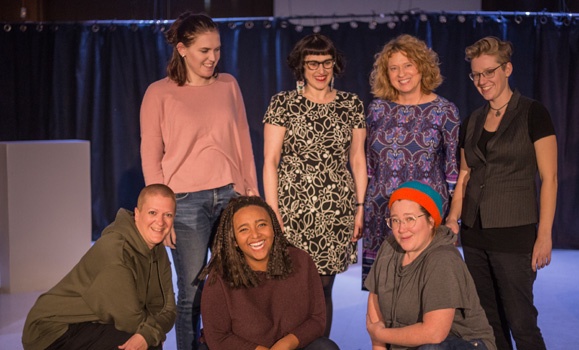 Back row, left to right: Sophie Schade (actor), Dr. Lisa Goldberg (co-producer and nursing researcher), Dr. Megan Aston (co-producer and nursing researcher), Stephanie Kincade (stage manager). Front row, left to right: Annie LaPlante (actor), Koumbie (actor), Emily Shute (actor). Director and dramaturg Annie Valentina is absent from the photo. (John Fraser photo)
Dr. Goldberg is excited about the plans for the next stage of this project. She and her collaborators received a SSHRC (Social Sciences and Humanities Research Council) grant to take the play across rural Nova Scotia to an audience of clinicians, policy makers and the 2SLGBTQ+ community. "The plan is to have workshops after the play that build empathy and community engagement with the audience who will be working with queer and trans folks and making policy that effects them," she said. 
Dr. Goldberg says a great deal of her work deals with showcasing that nursing is politicized compassion in action. "You can be incredibly compassionate, you can be incredibly empathic but the way to engage, to make a difference in the life of others is to do it through a politized lens," she said. "It is a lens that can ultimately make change at the personal level, at the professional level, and the institutional or at the systems level."  She went on to say, "as nurses, we not only have an opportunity to do this, but also a professional obligation through our Code of Ethics and Standards of Care.