News
»
Go to news main
Weaving the Story: Exploring the Person, Environment, and Occupation of an African Nova Scotian experience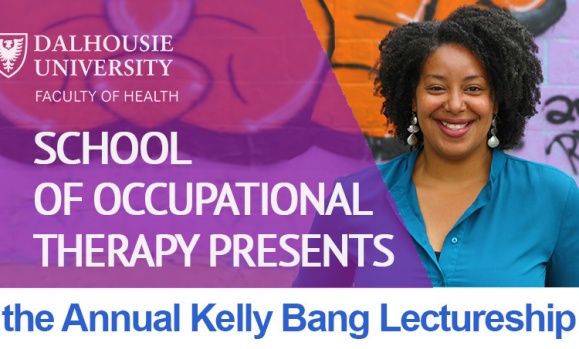 Stephanie Bizzeth is a 6th generation African Nova Scotian and 2017 MScOT graduate who grew up in Cole Harbour, NS. When younger, she had plans of working in healthcare as she loved to help people but when math became her Achilles heel she was dissuaded from pursuing sciences at the university level.
Fast forward several years and she was in a career that she liked but didn't love. That's when she decided it was time to go back to school and pursue healthcare as she had originally intended. While researching health professions she came across occupational therapy. "I had never heard of the profession and as I read the description of OTs being those who enable folks to live their best lives in a multitude of areas, which truly resonated with me," she says.
Barriers for African Nova Scotian students
"Many African Nova Scotian youth are often the first in their family to be a health professional or are unaware of what professions are available and navigating that path (academically, socially) is not always clear. Economic status is another barrier to post-secondary education with increasing tuition."
Retention can also be difficult based on the absence of faculty with similar lived experience, mentorship, and lack of cultural community in programs. "Black students are often the only one in their program and feel tokenized, where they have been accepted into a health profession program but nothing in the environment is setup for them to feel safe and their experience valued. It is hard to feel as if you belong if you do not see yourself reflected."
Stephanie knows from her own experience that you can feel like an imposter. "You're surrounded by smart and highly capable people and feel like admissions may have made a mistake.  You need to remember you have been accepted into the same program which makes you a smart, and highly capable person too."
Systemic issues
She says health outcomes in Black communities are impacted by multiple factors but the root of it is racism.
"Systemic issues and the mistreatment of Black individuals accessing healthcare has caused mistrust in the healthcare system and so often Black people do not feel comfortable reaching out for help before a situation becomes dire."
"Due to racism Black people experience higher rates of anxiety, as experiencing discrimination and micro-aggressions frequently leaves their bodies in continuous stress states impacting rates of chronic disease and overall wellness. The current healthcare system does not address these issues. Having a system that better reflects its community could assist in breaking some of these barriers down but is not a full solution."
2020 Kelly Bang Lecture

Growing up, Stephanie rarely saw herself reflected in the healthcare field and felt she could provide a different perspective as a health professional and be a source of support for racialized people accessing the healthcare system. She is currently working in the area of mental health and addictions. Her work to date has included practice in community, geriatrics, and advocacy for students of African descent as the former Program Manager of PLANS program in the Global Health Office at Dalhousie University.
As the guest speaker for the 2020 Kelly Bang Lecture, Stephanie will share her lessons learned as a Black student and health professional and hopes to inspire the health community to work together to encourage more representation of Black people in the health professions, more culturally aware clinicians in the field as anti-black racism education should become the norm for health schools, and more supports closer to Black communities that address chronic disease, mental health, etc.
The Kelly Bang Lecture is scheduled on Thursday, September 24th from 6:30pm – 7:30 pm. To receive the online link please REGISTER NOW!
The Kelly Bang Lectureship celebrates the memory of Kelly Bang, a nationally known occupational therapist, lecturer, writer, artist and counselor for survivors of child and sexual abuse. The memorial lecture was established by her family to honour those whose research, practice, teaching and advocacy advanced opportunities for women and other marginalized adults who are learning to live in their communities.