News
»
Go to news main
Mother, Researcher, Scholar: PhD in Health Candidate Awarded Kappa Kappa Gamma Foundation Scholarship
Posted by
Decklan Rolle
on August 28, 2020 in
News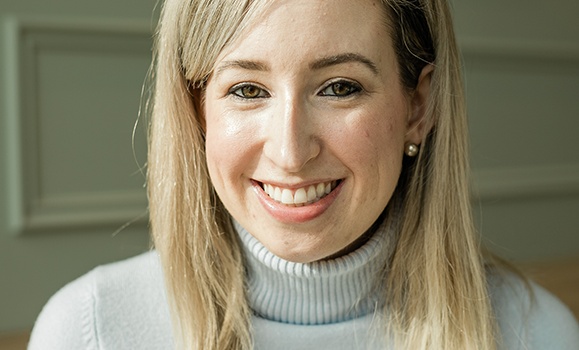 Parenting is not always easy, nor is the life of a health professional, and the life of a scholar is no walk in the park either. But for recent Kappa Kappa Gamma (KKG) scholarship recipient, Emily Drake, this is just her daily routine. The KKG award is a scholarship that was established by the Kappa Kappa Gamma Foundation of Canada. The organization's goal is to foster and promote higher education among Canadian women. The scholarship is offered annually to two women currently pursuing PhD studies, who attain high standards of scholarship, leadership and service to their community. Emily is one of the 2020 recipients.
Emily is a graduate of Acadia University's Honours Psychology program and Dalhousie University's Masters in Health Promotion program. She is a Killam Scholar and current PhD in Health candidate. Her research is focused on adolescents and young adults who are diagnosed with metastatic/advanced cancer. By understanding their experiences, Emily says that we will be able to provide better person-centred, specialist, age-appropriate care.
"It was a handful of mothers I worked with who died of cancer at a young age who greatly shifted my career and motivated me to pursue doctoral studies," she said. Each of the mothers created legacy projects for their families so that their children had something to remember them by, while also advocating provincially, nationally and globally for the needs of young people living with advanced cancer. Emily said that, "It is horrific and unjust. These young women deserved more and so do their children.". It has been the focus of her work for 12 years, during which she was the Director of the young adult cancer support program (CancerFightClub) at Hope & Cope, Jewish General Hospital/McGill University, run her own consulting business and conducted academic research.
When COVID-19 hit Canada, everyone had to face new challenges and Emily was no exception. COVID-19 forced her and other students, to re-work their academic lifestyles, which resulted in finding creative ways to keep their studies going. Emily started her PhD program when her daughter was nine-months old. "All students with dependents must balance their academic demands with caring for their loved ones. COVID-19 has interrupted for many of us, the systems that we had in place to do so. At the same time, my daughter is seeing daily how women can pursue doctoral degrees and work in science. She is my teammate and inspiration. She reminds me of the importance of play and adventure. As a mother I have to maintain balance in my life," she says.
Many women in academia face similar challenges and acknowledge that institutions and health research bodies still have work to do, in order to dismantle the misogyny and racism that exists in higher education.
With this recent achievement in her young, but strong career, Emily continues to show her brilliance, excellence and the possibilities for women in sciences.