Kelly Christie (MSc'94) grew up in Fredericton, NB. She chose Dalhousie for speech language pathology (SLP) because she wanted to live in Halifax and experience university life in a city after having competed her undergraduate degree at StFX in small-town Antigonish.
She didn't know any speech language pathologists before she started the program and wasn't even sure if this was the correct career choice. However, two preceptors had a significantly positive effect on her, Susan Wozniak and Kelly Roberts. She says, "they likely kept me from switching careers!"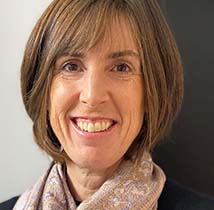 Kelly's career path started in a variety of settings in New Brunswick and Ontario working with preschoolers, school-age children and adults. For the past 11 years she has worked for the Halifax Regional Centre for Education (HRCE) and currently provides SLP assessment and intervention for students in grades Primary-9. Co-teaching with teachers in their classrooms and small groups to develop student skills in structured literacy is the favorite part of her job these days.
She first became a preceptor three years after graduating and supervised several second-year students in part-time placements.  "I was reluctant to take a third-year full-time student for a clinical placement because the pace in the school system is very hectic and our caseloads are very large.  I was concerned that having a student would slow me down and reduce the number of students seen each day. However, I was specifically requested to be a preceptor by a third-year student in 2017 and the experience was fantastic! I am going to try to take a third-year student every year from now on," she says.
Kelly hopes that students get a taste of what it is really like in a very busy workplace with a very diverse caseload. In addition to broadening their scope of clinical skills and knowledge, she hopes they learn the importance of flexibility, building relationships and trust with co-workers and students, and the fulfillment that comes from life-long learning.
"The most rewarding part of being a preceptor is watching the student's confidence and clinical skills grow as they experience successes and occasional mistakes. It has been rewarding to maintain relationships with the students after they graduate and see them become gainfully employed and happy in their chosen profession.  I am flattered that many of them still email me with questions and updates," she says.
Kelly finds that SLP interns/externs share a love of communication, language and literacy and really enjoy being able to discuss cases and hot topics in research. Their perspective on regular and challenging cases has been insightful to her and that the school speech and language programming has been richer for many of the kids as a result. That is why she encourages other alumni to become preceptors. She has also learned from her students. "They introduce me to new research articles and new software and programs for making therapy materials which I absolutely love."
"Giving back means providing mentorship and guidance for students who are likely overwhelmed by the reality of actually starting to work in the SLP field. Giving back means making sure these bright and creative minds believe that they can make a difference in the lives of the clients who need their skills and expertise," she says.
Kelly plans to continue to work in the HRCE and in her after-work hours she continues to do volunteer work, professional development and private practice with students who have dyslexia, which has become an area of particular interest for her over the last 5 years. We are sure she will continue to inspire SLP students for many more years!