News
»
Go to news main
Researcher's work attracts over $265,000 in funding from IDEaS
Posted by
Dawn Morrison
on November 19, 2019 in
News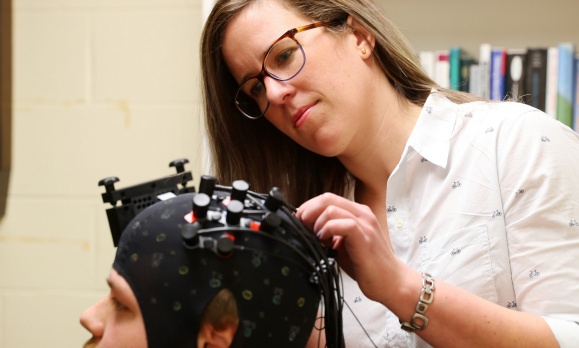 Dr. Heather Neyedli, (Health and Human Performance), is part of a micro-net that recently received $1.5 million in funding from The Innovation for Defence Excellence and Security (IDEaS) Program. An associate professor in Kinesiology, Dr. Neyedli's Cognitive and Motor Performance Lab will receive $265,650 of that funding for a research project that has applications for defence and security for Canadian military aerial and ground vehicles, as well as the automation used in search and rescue operations.
The micro-net is a funding mechanism through IDEaS that brings together multiple researchers to study human-automation interaction. Dr. Neyedli's area of research includes motor control, neurofeedback, interface design and human-automation interaction. Her role in this project is to work on the human side of this interaction, while engineering researchers from Quebec and Ontario look at the robotics side.
"It's really exciting to collaborate with other researchers on this project, and to also include student trainees to produce this research for the Department of National Defence" Dr. Neyedli says.
Her research investigates how humans select, plan and execute actions using statistical models to assess decision-making. Past work in this area investigated a range of applications — from combat identification systems to prevent friendly-fire, to brain-computer interfaces to provide neurofeedback for stroke patients.   
The IDEaS program is offered through Canada's National Defence and commits to $1.6 billion of investment in innovations for defence and security over the next 20 years.