News
»
Go to news main
New Beginnings: Five Questions for Dr. Brenda Merritt as a new academic year begins
Posted by
Dawn Morrison
on October 1, 2019 in
News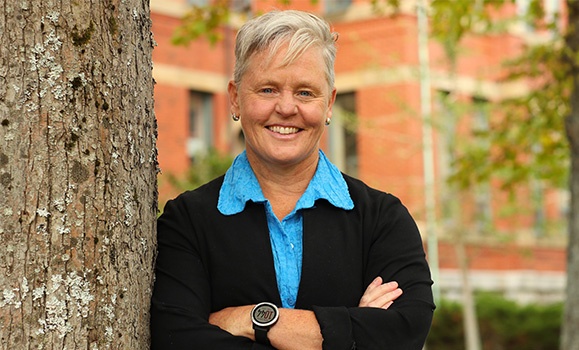 The Faculty of Health is pleased to welcome Dr. Merritt as our new Dean. A new season and academic year is upon is, making this a good time to check in with Dr. Merritt on what she's most excited about as she takes on the role, priorities for the Faculty and a personal message to our faculty, students, staff and alumni.
1) The fall always brings a feeling of renewal to the Dal campus and our Faculty. What are your thoughts as we head into a new academic year?

In some ways, it feels as though I'm back home in the role of Dean, but it also feels fresh and new. Because there's stability in the Faculty, there are some initiatives I can really roll up my sleeves and launch into and that's very exciting. For instance, within the Deans Office, a team of about 20 people, I want to provide the leadership and culture where we engage in conversations about how our work environment supports and promotes health, well-being, and productivity. I want to encourage new ideas and initiatives to create an optimal work environment. If we can lead by example, and spread the word of our successes and challenges, perhaps the Dean's Office can provide leadership and spark new ideas to support and promote health and wellness across the entire Faculty. How exactly we will do that is still to be determined, but the health and wellness of our faculty and staff is a big priority. The Faculty of Health is also taking the lead on central Human Resources' Quality of Work Life survey. We will pilot the survey and look forward to supporting that important initiative.

This time of year, I also feel more engaged with the students. I like to put myself into the shoes of new students, to remind myself of how it feels to be in that place of hope and excitement.
2) What are some of the things you are most looking forward to as Dean?

One of the things I'm most looking forward to is digging back into the Strategic Plan; identifying and shaping the priorities. The Strat Plan is a mechanism that will pull the Faculty together and guide the work that we do. I'm also looking forward to working with a new senior Dalhousie leadership team, learning from and with them. Interim President Terri Balser is setting the stage for a very welcoming environment at Dal and it's a very exciting time to watch these leadership and collaborative initiatives unfold across campus.

3) What are your current, top priorities?

In terms of my personal priorities, I know that to be the best leader I can be, I have to take care of my own health, fitness, nutrition and sleep. I know that I am much more effective, energetic and able to concentrate when I am looking after my own health and wellness, and I encourage everyone in our Faculty to also be mindful of their own health in terms of what they need in order to take care of themselves and be successful.

4) How would you describe your personal approach to leadership?

My goal as Dean is to directly engage as many people as I can and support them in succeeding in work that fuels their desires and passions. I firmly believe that it is my job to support the careers of those within the Faculty of Health. I work for everybody in the Faculty of Health, so that they can have success and that is what I will strive to do every day.

5) As we kick off another busy and exciting year, what is your personal message to our faculty, staff, students and alumni?

I suppose my main message would be that I hope you will engage in your own health and to support the health of those around you. Take time to meet your interprofessional colleagues and find out how you can learn from one another and support each other's work. We are all united under the umbrella of the Faculty, and we are stronger when we work together. Have confidence that we have a strong and experienced leadership team across the Faculty to support your work and our mission and goals.

I love interacting with as many people as I can and engaging with people on social media, so I look forward to continuing to connect in that way. Also, stay tuned for some exciting initiatives around our collaborative health solutions research hub and how we will continue to work with our partners to develop innovative health solutions for our communities.