News
»
Go to news main
Convocation Q&A: Carolyn Crane
Posted by
Dawn Morrison
on October 1, 2019 in
News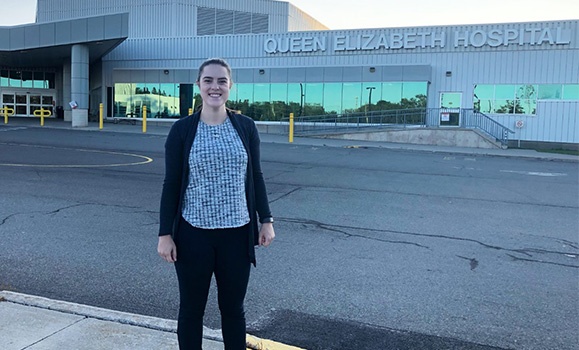 To celebrate fall Convocation 2019, we chatted with some graduating students about their experience at Dal and plans for the future. Today, we're catching up with MSc Physiotherapy grad Carolyn Crane.
What's the most exciting thing about graduating?
The most exciting part about graduating is entering the profession. After studying for two years, it is very rewarding to put the skills and information I've learned into practice.  
What will you miss the most about Dal? 
I will miss my Physiotherapy School family and the city of Halifax. As physio students, we got very comfortable practicing on each other from the very first week of School, so we are a pretty tight-knit group. I loved my time in the School and in Halifax, and can't wait for graduation to be back again!
Did you have any particular moments of inspiration while you were here that may have impacted your studies or future career plans?
I think there were many 'lightbulb moments' during my time in the School of Physiotherapy, but I think the biggest one for me was on my Neuro placement, when I overheard one of my stroke patients called me "his physio" to his nursing staff. As a student, it made me feel like I was doing a good job and that I had picked the right career.  
Who or what influenced you the most during your studies?
I think the clinical education influenced me most during my studies. When I began in the School of Physiotherapy, I thought I wanted to work in a private clinic or with athletes, but as I entered my first placement in acute care, I knew the hospital was the place for me! The patient encounters also really helped solidify what I had learned at school, and made me realize a passion for this career.  
What's next for you?  
I have started work at the Queen Elizabeth Hospital in Charlottetown, PEI, on the rehabilitation unit. I am currently working mainly with amputees, but also individuals recovering from brain injuries and musculoskeletal surgeries.