News
»
Go to news main
Star Power: Dal Health researcher and Elliot Page co‑produce There's Something in the Water, premiering at TIFF and FIN
Posted by
Terry Murray-Arnold
on September 3, 2019 in
News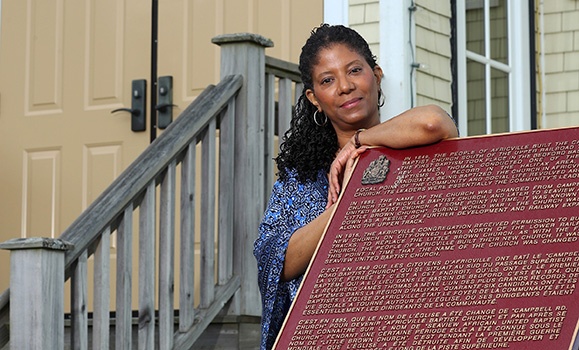 Last fall, Ingrid Waldron noticed something surprising on Twitter. A post using the hashtag for her book, There's Something in the Water, had received thousands of likes and shares, almost overnight. Dr. Waldron, an associate professor in Dal Health's School of Nursing with a cross appointment to the Department of Psychiatry, tracked the attention back to a social media post from Oscar and Emmy award-nominated actor-director Elliot Page, who enthusiastically endorsed the book. Page had read The Mill: Fifty Years of Pulp and Protest by Joan Baxter, about environmental issues in Pictou Landing First Nation, and when he went looking for more information about environmental racism, he found Dr. Waldron's book.
About 10 months later, that tweet has turned into a powerful documentary based on Dr. Waldron's book of the same name. There's Something in the Water, co-produced by Dr. Waldron, Elliot Page, Ian Daniel, and Julia Sanderson will premiere at the Toronto International Film Festival in that city on September 8, and at the Atlantic International Film Festival on September 14.
Dr. Waldron, also a Senior Research Scholar & Team Lead, The Health of People of African Descent Research Cluster, Healthy Populations Institute (HPI), says that Elliot Page was perfect to collaborate with on this project. "He is humble and an excellent listener. He made it clear from the start that this project was not about him. It was about the communities living with the effects of environmental racism and the women who were advocating for them."  
"We are thrilled and grateful that TIFF has accepted our documentary, There's Something in the Water," said co-producers Elliot Page and Ian Daniel. "Thank you to everyone who was interviewed and opened their communities to us. We are excited to say that this is just the beginning, and hopeful that the large platform TIFF provides will help spark the change that is needed."
From a tweet to TIFF
After she saw the tweet last year, Dr. Waldron reached out to Page on social media and the two connected. Determined to learn more about environmental racism in his home province, Page suggested setting up a conference call between himself, Dr. Waldron and some of the women whose stories were featured in the book.
"Elliot had an upcoming break in production and wanted to travel to Nova Scotia with his co-producer on the show Gaycation, Ian Daniel, and some film gear. They wanted to interview the women on the front lines who were struggling to have their voices heard," Dr. Waldron said.
This spring, Page and Daniel traveled across the province to speak with the women in Dr. Waldron's book. Originally the plan was to share the interviews as stories on social media. Once the trip was complete and he and Dr. Waldron reviewed the footage, they had a deep realization.
"When we looked at the video, we were moved by the power and gravity in the women's stories and it occurred to us that we had to do something bigger with the footage. We had to put it together in a feature length film," said Dr. Waldron.
She had used diverse knowledge mobilization approaches in the past to share her research findings. But she says partnering with a celebrity of Page's fame, and having their collaboration premiere at one of the biggest cinematic events in the world is definitely a first.
"My hope for the film is to amplify the voices and stories of Indigenous and Black communities on the front lines of environmental justice organizing and activism in Nova Scotia and Canada," said Dr. Waldron. "I want it to engage and touch the hearts and humanity of viewers, including politicians, in ways that incite them to act on environmental injustices and other social injustices happening across this country and the world."
Find out more:
Media: