The President of Shoppers Drug Mart reflects on his time at Dal and the importance of a collaborative approach to leadership.
Jeff Leger (BScPH'95) says his personal leadership style is focused on listening and collaboration — something he first developed during his time as a student in the Faculty of Health's College of Pharmacy. He also remembers how his professors inspired him to think differently about the profession.
"At the time I was going through the pharmacy program, there was a change of emphasis on pharmacists playing a more proactive role in helping patients achieve their health outcomes," he says. "The professors at the College of Pharmacy helped challenge us to see our place in this changing landscape."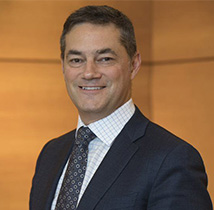 Originally from Moncton, Jeff graduated from Dalhousie in 1995, later earning an MBA from the University of Moncton. He has held positions at Apotex and the Beauséjour Regional Health Authority in New Brunswick before joining Shoppers Drug Mart in 2008.
Since then, he's held increasingly senior roles, including executive vice president of pharmacy and healthcare for both Loblaw and Shoppers Drug Mart. He became president of Shoppers Drug Mart in January of 2018.
As one might expect, pharmacy was what drew him to Dalhousie, which has the only pharmacy program in the Maritimes.  
"I was drawn to pharmacy because it is a unique profession in that it is central to healthcare delivery in the community, but has many elements of business," he notes.  
He says he thoroughly enjoyed his time at Dal, where he gained great clinical skills, built lifelong friendships and developed a passion for leadership.   
Varied perspectives
His unique career trajectory has given him a variety of valuable perspectives, taking him from hospitals, to consulting, to his current leadership position at the helm of Shoppers Drug Mart.
"The great thing about the profession of pharmacy is that it opens up so many doors and my career path is a great example," he says. "I've spent time in hospital and community pharmacy, the pharmaceutical industry and now leading Canada's largest pharmacy chain. I've enjoyed each role and I've gained different skills through these many experiences."
He says a common thread throughout his career has been the opportunity to foster innovation and drive change. "The profession of pharmacy, like many professions, is going through lots of change. The exciting thing is that it is well regarded by the public and will continue to grow and expand in delivering community healthcare. I'm excited to be leading an organization at the center of this change. "
On leadership and the importance of curiosity
Jeff says that his time at Dal enabled him to develop a strong interest in leadership, beginning with student leadership experiences. These, and his involvement with provincial and national professional associations, were valuable experiences that shaped his career.  
"This exposure to leadership experience during my pharmacy degree drove a passion for being involved that continues to this day," he says.  
Jeff's personal approach to leadership is focused on listening and collaboration. "I've experienced many different leadership styles through my career. This style helps me tounderstand the needs of customers, patients and colleagues, and enable teams to collaborate to find solutions to their needs," he says.  
Jeff has some words of advice for the recently graduated Class of 2019 Dal Pharmacy graduates.
"Be curious! It's so important to be open and receptive to the changing environment.  Take every opportunity to become involved in your chosen area of study."