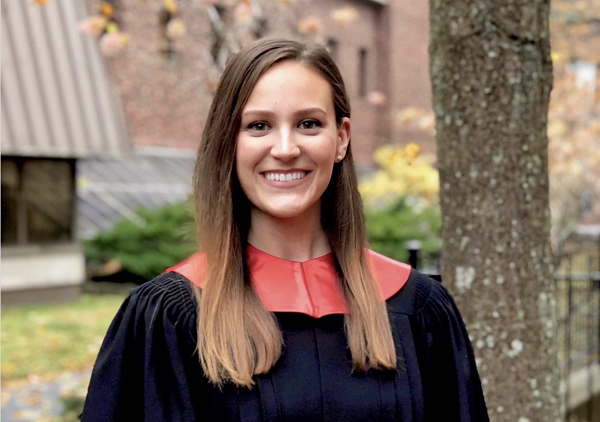 Alison Bartlett (Photo: provided)
Convocation Q&A: Alison Bartlett, School of Communication Sciences and Disorders
Congratulations to all of our Faculty of Health graduates this year! To celebrate Convocation 2019, we chatted with students from across Dal Health. Today, we're catching up with Alison Bartlett.
What is the most exciting thing about graduating?
Being able to apply everything I've learned in the program so that I can start making a difference in people's lives. It feels almost surreal to finally be able to call myself an Audiologist!"
What will you miss most about Dal and your program?
"Definitely the people! Our program is very small and you end up spending a lot of time together over the course of three years, so we became more of a family than classmates. Also, the faculty and staff are exceptional and they truly want you to succeed. I'm really going to miss all of their support and guidance."
I understand you are now working at your placement. Can you describe your placement experience and how you benefitted from it?
"Yes, I am! I could not have asked for better placement experience. My Clinical Educator provided me with enough independence to learn and grow more confident in my skills, but also endless amounts of support, guidance, and encouragement when I needed it. I think that the course work in school is fundamental is gaining the knowledge that you need to be successful, but the biggest benefit of my placement experience was learning how to apply that knowledge to real-world situations."
Where are you from originally and what brought you to Dal?
"I'm originally from Nashwaak Bridge, New Brunswick. When I started researching Universities that offered an Audiology program, Dal was at the top of my list. I had heard a lot of great things about the program from previous Dal graduates and loved that they also include a research project as part of the degree."
What are some of your fondest memories looking back on your time at Dal?
"In October, we were fortunate enough to get to go to Niagara Falls for the Canadian Academy of Audiology (CAA) conference. It was such a great experience! I think another would have to be our research project presentation day. It was so fun and exciting see everyone present their hard work!"
What's next for you?
"Very exciting things! I am so fortunate to be working as an Audiologist for Hearing Institute Atlantic! They have provided me with an incredible opportunity that will allow me to fulfill my dream of providing audiological services to more rural communities."