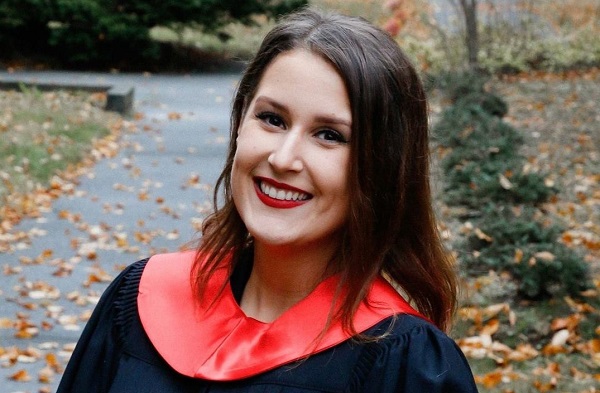 Madeleine Leger (Provided Photo)
Convocation Q&A: Madeleine Leger, School of Communication Sciences and Disorders
Congratulations to all of our Faculty of Health graduates this year! To celebrate Convocation 2019, we chatted with students from across Dal Health. Today, we're catching up with School of Communication Sciences and Disorders Master of Science in Speech-Language Pathology grad Madeleine Leger.
What is the most exciting thing about graduating?
Getting the opportunity to apply all the academic and clinical knowledge that I acquired throughout my program in a way that enables me to have a positive and meaningful impact on my patients.
You did your clinical externship in Barbados. What was that like and what did you learn?
My clinical externship in Barbados was nothing short of amazing! I had the opportunity to learn a great deal from two well-seasoned clinicians who pushed me to become the best clinician I could be. I think the most poignant learning experience was the importance of cultural awareness and cultural competency. Through this experience, I became a clinician that is more open, accepting, and respectful of personal differences. That mindset is so important, because everyone we meet is different and carries their own unique baggage – being open to understanding those differences and learning continuously in order to build our cultural awareness should be a vital part of everyone's journey.
What was it like for you as a francophone student to be in a primarily English program? 
I was very fortunate to grow up in a bilingual community. By stepping out of my comfort zone and making the jump from an undergraduate degree in French to a graduate degree in English, I was initially somewhat fearful and doubted my language competencies. However, from the very beginning of my studies here at Dal, professors and students alike in my program were very supportive and understanding, and I realized very quickly that I should have never doubted myself! By all means, studying and writing in my second language sometimes took me longer than expected, but it was time well invested – I became much more confident in my English skills, all while still cherishing the skills I already had in French.
What will you miss most about Dal and your program?
The people! I will certainly miss being around my classmates and the faculty. I was incredibly fortunate to be surrounded by such bright and empathetic people on a daily basis. I will dearly miss the many hallway conversations and bouts of laughter; being able to pop into a prof's office to receive advice or simply to catch up.
What's next for you?
I'm currently working in my hometown of Moncton, NB, at The Moncton Hospital as a full-time bilingual Speech-Language Pathologist for their pediatrics outpatient clinic.