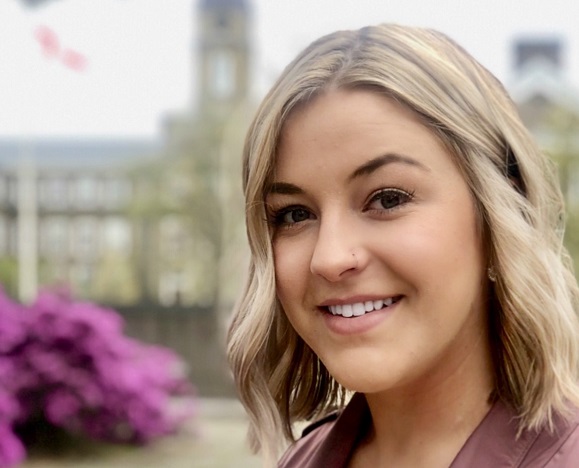 Mackenzie Wright (Photo: Mateo Yorke)
Convocation Q&A: Mackenzie Wright, School of Health and Human Performance
Congratulations to all of our Faculty of Health graduates this year! To celebrate Convocation 2019, we chatted with students from across Dal Health. Today, we're catching up with Bachelor of Science in Health Promotion grad Mackenzie Wright.
Where are you from and what originally brought you to Dal?
I'm from Halifax, and my mom has worked at Dalhousie for over 25 years (Linda Parker Director, Residence Operations), so I kind of grew up on campus. I remember coming here as a young girl, and I couldn't wait to be a Dal grad! When I started my program, it felt so familiar to be here. It felt like home.
What is the most exciting thing about graduating?
I just accepted a position in health promotion with the NSHA in Port Hawkesbury, so graduating and moving to Cape Breton is the beginning of an exciting, new chapter for me. It will be a whole new place for me to grow as a recent grad, and I'm excited about the opportunities there.
What will you miss most about Dal and your program?
I am definitely going to miss the people. Finding Health Promotion was the best thing that ever happened to me, I really found my niche. And there was such a small group of people in the program; it was easy to feel really connected and to make friends. I'm also going to miss the campus — I loved finding neat little places to study on campus, and running into my Mom.
What's next for you?
Eventually, I'd like to get my Masters in Social Work. In the past, I've worked with children with unique needs at a daycare, and I really enjoyed it. I also did an internship in mental health and addictions and absolutely loved that as well. So, to work as a health promoter or social worker in future would be ideal.
For now, I am eager to start my career as a health promoter. I am lucky to have the opportunity to do something I love right out of university. Eventually, I want to complete my Masters in Social Work to get a little bit more of a client-based interaction in the healthcare system. I did an internship placement in mental health and addictions, and absolutely loved that — I see myself doing social work for people with addictions and mental health disorders.
I just have a passion for helping people and seeing them thrive, I found this part of myself when I was working with children with unique needs, through my program. My ultimate goal is to create positive change in the world, whether it be as a health promoter or social worker.