Every day, Dal's student leaders make an impact – in the classroom, across campus and in their community. On March 21 more than 400 Dal students, faculty, and staff celebrated an evening of inspiring achievement at the 8th Annual Dalhousie Student Impact Awards. 
The Dalhousie IMPACT Awards are a premiere ceremony that brings together all aspects of student life and the entire Dalhousie community including students, faculty, staff and alumni. The annual celebration is hosted by the Dalhousie Student Union (DSU) in collaboration with Dalhousie University.  Eight Dal Health students received awards at the gala.
Held in the McInnes Room, the ceremony, featured three major award categories and over 20 Impact Awards. The awards recognize student leadership in academic life, student life and community service, and residence life. Some of these are group awards while others are individual recognitions.
Dal Health alum Patrick Holland, BSc'16 (Pharmacy) who is currently enrolled at Dal Medical School received the Faculty of Medicine's Faculty Leadership Award. The Dalhousie University Nursing Society was recognized as the Most Impactful Faculty/Departmental Society. 
Dal Health student Justine Dol received the top student honour: The Board of Governor's Award. The Governors' Award recognizes exceptional leadership in areas such as university governance, campus community, community service, internationalizing the campus, visual or performing arts, minority access, and athletics.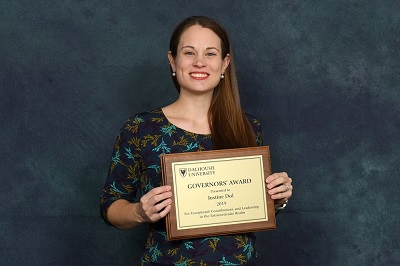 Phd (Health) Student Justine Dol (Danny Abriel photo)
"I am honored to be selected as a 2019 recipient of the Board of Governors' Award. As a third year PhD student, I appreciate all the leadership opportunities that being a graduate student at Dalhousie has to offer," said Ms. Dol." Whether it means being involved in existing faculty committees to bring the student perspective, helping to launch new ones, such as the PhD in Health Student Society, or becoming involved in global health opportunities."
Dal Health Student IMPACT Award winners  
Rachel Ollivier (Nursing) Faculty of Health Faculty Leadership Award
Andrew Holland (Health Administration) Student Entrepreneur of the Year
Annie Douglas (Kinesiology – HHP) Varsity Athlete Award
Kathleen Margaret MacMillan (Pharmacy) Dalhousie Student Union Gold D
Nicole Blinn (Health Promotion – HHP) Dalhousie Student Union Gold D
Julia Guk (Health Administration) Outstanding Student of Distinction
Zachary Moran (Kinesiology- HHP) Residence Life Leadership Award


PhD (Nursing) Student Rachel Ollivier (Danny Abriel photo)
"Involvement in student life during both my undergraduate and graduate degrees has made such a positive impact on my university experience," said Dal Health Faculty Leadership Award winner Rachel Ollivier." The most meaningful memories I've taken away as a student have centred on events, milestones, or initiatives I've shared with others. I am fortunate to have had such wonderful opportunities, whether it be global travel or community events, outside of the classroom and this Faculty Leadership Award is shared with the many who make what I do every day so enjoyable." 

Congratulations to all of the IMPACT AWARD recipients on their achievement, and to the DSU on an excellently run celebration.