News
»
Go to news main
Kinesiology students receive competitive NSERC USRAs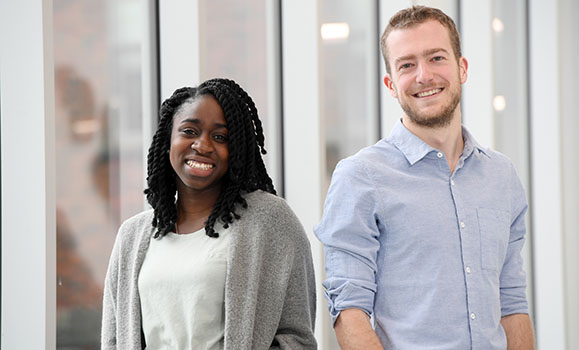 Kinesiology students Fola Akpan and Chris Holland recently received Undergraduate Student Research Awards (USRA) from NSERC to conduct research this summer. The awards provide financial support for emerging researchers, and encourage students to undertake graduate work in the natural sciences and engineering fields. 
Fola's summer research project involves working with the military, looking at decision-making when firing automatic weapons from ship to air. Chris' research focuses on interpreting brain waves to provide better outcomes for stroke rehabilitation. 
"It means so much to receive this award, as it allows me to spend my summer learning outside of the classroom," says Fola. "Although I really enjoy learning in the classroom setting, I am so excited to dive into the process of asking questions and finding answers through the research process."
"To me this is an opportunity to dive into my areas of passion and apply my class knowledge to solving real world problems," says Chris. "In class, I find myself asking questions that sometimes we don't know the answers to, and through research I get the chance to try and answer some of the bigger questions. This award is a is an opportunity to gain an experience that would otherwise be impossible." 
Dr. Laurene Rehman, Director of the School of Health and Human Performance, says the NSERC Undergraduate Student Research Awards are a tremendous opportunity for students.  
"They are very prestigious awards with a competitive process. Both Fola and Chris are two of our outstanding students who have expressed strong interest in participating in research and have both already been involved in our Kinesiology labs. I am excited for the opportunity this provides them to extend their research experience."