News
»
Go to news main
Message from the Dean, Fall 2018
Posted by
Cheryl Kozey
on October 21, 2018 in
News
NS IHRIS brings together health stakeholders from across the province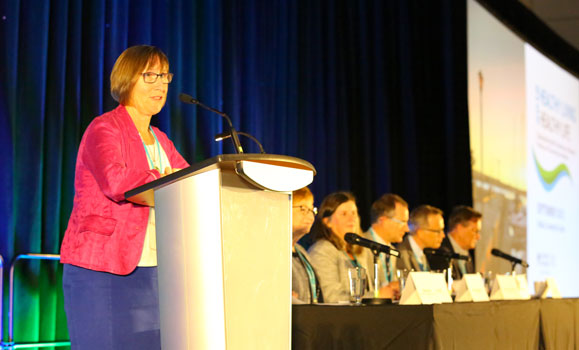 We're pleased to bring you the fall edition of Mosaic, featuring the latest news from the Faculty of Health. We welcomed all of our new students in two Faculty of Health orientation sessions which were extremely well attended, and we also welcomed back our returning students to another action-packed year. This included over 3,200 students who will eventually work in health or health care in either a professional or research capacity. Besides the Dalmazing interprofessional learning event, we launched our inaugural Healthy Living, Healthy Life conference which ended with a high energy community workout with Shaun T; part of Dal's ongoing 200th anniversary celebrations.
A key event of the conference was the IHRIS Breakfast Panel announcing the Nova Scotia Integrated Health Research and Innovation Strategy (NS IHRIS).
For the first time, this new network brings together the Nova Scotia government, health authorities, post-secondary institutions, industry, and the public. Working together, these groups will bring their collective research and expertise to the network to address key health issues in the province.
The network was formed to support research across sectors, efficient knowledge exchange, evidence-informed decision making, and to improve health and healthcare in Nova Scotia. Members of the Nova Scotia Department of Health and Wellness, the Nova Scotia Health Authority, the IWK Health Centre, St. Mary's University, Dalhousie University, and Medavie Health Services shared their expertise and insights during the September 21st panel discussion, led by Dalhousie's Vice President of Research and Innovation, Dr. Alice Aiken. The Breakfast Panel was presented by the Dalhousie Medical Research Foundation, and we are grateful for their support.
Initial IHRIS outcomes
Some of the first outcomes of the NS IHRIS include the establishment of current assets across the province and enhancing access to health data for research and evidence-informed decision-making.  This pan-provincial academic health research network will support health research priorities in Nova Scotia through priority-driven and/or investigator-initiated research.
The Faculty of Health is pleased to be major contributors to strategic, collaborative partnerships like IHRIS.  We recognize that it is critical to work together with a wide range of health leaders and stakeholders to improve the health outcomes of Nova Scotians. Fostering key internal and external partnerships like these is one of the Strategic Directions captured in our Strategic Plan. I look forward to the innovations and opportunities that will be realized because of IHRIS.  For more information please visit the IHRIS website. 
In the following newsletter, you'll find more coverage of the Healthy Living, Healthy Life conference, and a snapshot of other news, research and events that are happening within the Faculty. I hope you enjoy this edition of Mosaic.