Dal Crossroads is an annual student-led interdisciplinary health research conference hosted by the Graduate Student Society at The Faculty of Health's School of Health and Human Performance. The first Dal Crossroads was held in 2002 and it is one of the longest-running events of its kind.
This year's conference was held March 9-10. The co-chairs were Holly Mathias and Laura Miller, who are Masters of Arts candidates in Health Promotion and Dal Healthy Population Institute (HPI) student research scholars. Together with the Dal Crossroads volunteers, they made a video to welcome participants and launch the event.
Dal Crossroads 2018 had close to 160 presenters with a total conference attendance of almost  200, including Dal faculty and staff.  In addition to Dal and other HRM-based universities, students traveled from universities across Nova Scotia and Canada with attendees coming from Ontario, Quebec and from as far as British Columbia.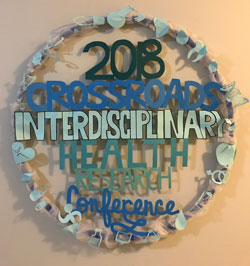 On March 9th, the conference was officially opened at the downtown Halifax Central Library by Elder Geri Musqua-Leblanc, Coordinator of Elders in Residence. The first item was open panels on health and the environment and health services accessibility. Panels were led by interdisciplinary speakers including researchers, students and community members.  Conference participants then attended breakout sessions.
On Saturday the conference moved to the Dal Collaborative Health Education Building (CHEB), where students from a wide range of disciplines gave oral and poster presentations related to health and wellness and the social determinants of health. Student researchers at all levels of study participated. Their presentations were peer-reviewed and awards presented to winners and runners up.
After the presentation portion of the day, Celina Shirazipour gave the keynote address. Dr. Shirazipour is a Dal postdoctoral fellow whose research aims to understand and promote physical activity participation for individuals with disability, particularly military personnel. She gave a powerful presentation on the role of physical activity and participation in the Invictus Games.
Participants and adjudicators agreed that Dal Crossroads provided a unique opportunity to showcase innovative health research, as well as providing a forum for interdisciplinary learning and collaboration between students and experts. This forum became social with many conference attendees connecting before, during and after the event on Twitter using #dalcrossroads.
See more:
Check out some #DalCrossroads Twitter highlights -