Alumni Outside the Box is a regular column profiling Health alumni who are using their health degrees in new or unique ways.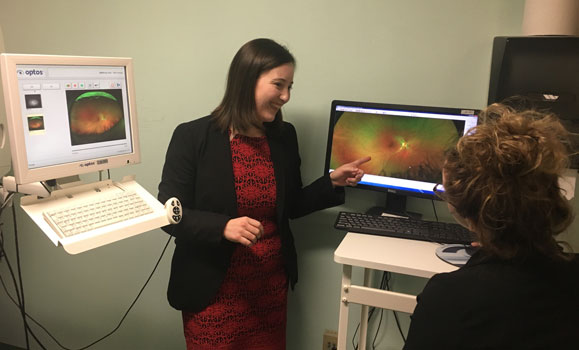 When she was a student, Leah Wood (MSc- CVS'11) didn't envision herself in the role of research manager, Department of Ophthalmology & Visual Sciences for the Nova Scotia Health Authority. Originally from Arichat, Cape Breton, she began her education with a physics degree which piqued her interest in optics. While considering optometry, she came across an advertisement in the newspaper about the Clinical Vision Science (CVS) Program at Dalhousie University.  After researching and learning more about the program and the profession of orthoptics, and factoring in her enjoyment working with children, Leah realized that being able to combine both interests made the decision easy. "Working directly with patients, particularly children, in a hospital setting and being exposed to patient care on a daily basis was a major factor in pursuing this program," she says.
From bench to bedside
After completing her program, she decided to pursue a masters degree to learn more about research. Leah worked with supervisor, Dr. Francois Tremblay, who helped her understand the concept of "bench to bedside" research. This is the process by which the results of research done in the laboratory are directly used to develop new ways to treat patients. It focuses on the importance of having strong pre-clinical data to move new treatments and procedures into the clinical setting.
Upon completing her masters in clinical vision science, she began working as an orthoptist at the Montreal Children's Hospital. She worked mainly in the clinic but also performed clinical testing for an industry-sponsored Health Canada clinical trial for patients affected by Lebers Congenital Amaurosis and Retinitis Pigmentosa. "At the time there was no cure or treatments for this condition," she says. "Hearing the stories of the patients and their families involved in this trial motivated me to become more involved in research, as it is the only way to get closer to a treatment for this disease."  
Devoted to helping patients
Eventually, she was working full-time on this clinical trial and pursued project management courses and a Society of Clinical Research Associates certification in order to learn more about the process of running a successful clinical trial. "It was at this point that I decided to devote my career to research and helping patients with vision-threatening diseases," she said.

At the end of the trial, Leah and her husband decided to move back to Nova Scotia.  She worked with the Dal's Department of Anesthesia as a Research Facilitator for a year but she missed Ophthalmology. When the research manager position came up it combined her project management, ophthalmology and research experience and seemed like a great fit. "Taking on an administrative/managerial research role is certainly a bit 'outside the box' for a clinical orthoptist. My orthoptics background has helped my understanding of the science of the eye, the visual system, how an ophthalmology clinic works, and ways to incorporate research into a clinical practice." She continues to focus on finding ways to incorporate research more seamlessly into clinical practice with hopes of encouraging and teaching faculty, staff and trainees to pursue more research throughout their careers.  
Small program, big impact
"I am grateful to the past and present faculty of the program for all of their hard work and dedication to continue to promote and build the program to what it is today," she says. Although the Clinical Vision Science program at Dal is very small it is internationally respected for the calibre of its orthoptic education program and is the largest orthoptic education centre in Canada. Through various departmental events (Research Day, Research Club, conferences, Grand Rounds, etc.) Leah has the opportunity to interact with current CVS students. "I would absolutely encourage more of them to become involved in research in orthoptics and other areas of ophthalmology," she says. "It is a wonderful way to expand your knowledge base, learn new skills, expand your network and make a difference for your patients and the profession. Getting involved in research completely changed my career path." In time, she hopes to get more involved in teaching residents, orthoptic trainees and other trainees.
Leah's motivation continues to come from families of patients, "knowing that research into their condition is actively happening gives them hope and encourages them to keep fighting. Hope is something that I think we all need."