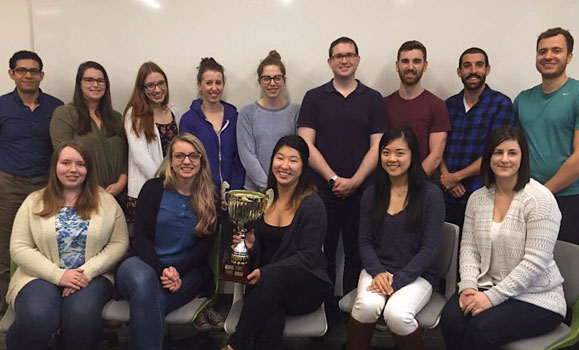 Congratulations to Dal Health staff, students, faculty, alumni and friends on their recent achievements:
Social Work's Marion Brown, along with a team including Nursing's Andrea Bishop and Ruth Martin-Meisner, received $14,745 from the NSHRF Development/Innovation Competition for "Addressing fragmentation in the health care of children in foster care." Marion Brown, with Jan Sheppard-Kutcher (NS Department of Labour and Advanced Education),  also received $18,089 from the NS Department of Labour and Advanced Education Recognition of Prior Learning Competition for "Bridge to Social Work in Nova Scotia."

Nursing's Ruth Martin-Meisner has been named the 2017 Canadian Association of Schools of Nursing Ethel John's Award winner.  This award recognizes distinguished service to nursing education in Canada.  Ruth will receive her award at the CASN Annual Reception in Ottawa on November 20.
Students from the School of Occupational Therapy won this year's gOT Spirit Challenge by getting the most views - more than 6000! - on their "Show me the kings and queens of OT" video. Sponsored by the University of Alberta, the competition aims to raise awareness of Occupational Therapy, offering a prize of $500 to be donated to a charity of choice.  The students have decided to donate their winnings to the Halifax Refugee Clinic.
Health Administration's Sandra Drew is retiring on December 8, after nearly 30 years as Administrative Manager of the School. During her career, Sandra has played a pivotal role; from training and mentoring employees, to working with faculty, staff and students to ensure the School's success. Sandra's contributions to both the School and Faculty have been significant, and we wish her all the best for her retirement.
The School of Human Communication Disorders' Audiology Class of 2018 were awarded the University Challenge Cup by the Canadian Academy of Audiology for their video "What is Vestibular Audiology?"
Savanna Jordan placed 12th at the recent U SPORTS cross country championships, leading the Dal women's team to a 13th place team finish. She earned second team all-canadian honours and was named the U SPORTS rookie of the year. Savanna is studying Kinesiology in the School of Health and Human Performance.