The Research Profile is an in depth look at research being conducted in the FHP. Each profile highlights the research achievements, goals and interests of a faculty member in their own words.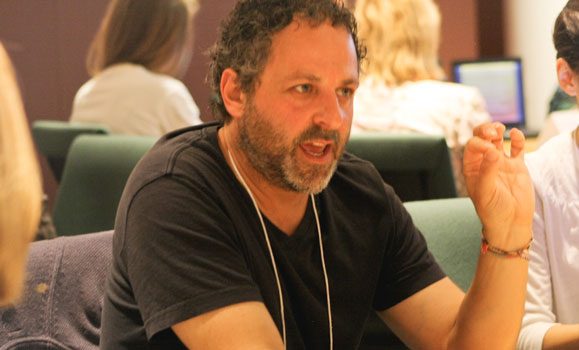 Name: Jeff Karabanow
Title(s): Professor
Degrees: BA, MA Sociology, PhD Social Work
FHP School: Social Work
Years employed at Dal: 17

Research snapshot
When and how did you decide that health research would be your career?
When I was in my early twenties – working in Toronto, Montreal and India with youth on the streets, I began to see/understand the deep relationship between health outcomes and social determinants of health such as housing, employment, poverty, food security, (dis)ability, race, etc… at that point, it became clear to me that I wanted to work within this complexity.

If you could write a newspaper headline about your research, what would it say?
I really try to make my work meaningful for policy makers, service providers and community members. Through the voices of my participants, I want to honor their wisdom and expertise – telling their stories about marginalization, poverty, exclusion and also hope, resilience, strength and creativity. The headline of my current work would say something like: "Here are some ways that homeless youth are getting off the streets and securing stable housing."
Looking back
Is there an individual, community/group or incident that has inspired – or continues to inspire – your research?
I would say that the young people I work with, in both my research and community practices, inspire me greatly – through their stories of trauma and suffering and their stories of courage and resolve.  Moreover, I have done a few arts based research projects – like animated shorts on street culture; a film documentary on Guatemalan street youth and comic book narration from our latest study on street exiting – these art products really inspire me – they are made by participants in our studies and exemplify their creativity, imagination, and hope.
What's been most unexpected about your career to date?
That I could have a meaningful community/clinical practice alongside a robust academic and research platform – I credit Dalhousie for allowing me such flexibility and creativity!
What made you want to be a part of Dalhousie?   
I like the size of the University – there are very well-respected academics here – I am fortunate to be cross appointed with a number of other schools/disciplines that allows for a broader more rich intellectual life. Last, I admire the student body and have learned a great deal from their experiences and wisdom.
What do you enjoy most about working in the Faculty of Health Professions?
The collegiality, openness, creativity, flexibility and interprofessional foundations of the Faculty.

What do you feel has been your greatest success to date?  Conversely, what has been your greatest challenge, and what lessons did you take from it?
I am so proud to be one of the founders and organizers of Out of the Cold Emergency Shelter (we see many Dal FHP Students volunteering here each year) and more recently Co-Director (with Cyndi Hall) of the Dal Community Social Work Clinic that not only provides all types of supports for marginalized folks but is also a great placement opportunity for Dal FHP students!! Greatest challenge would be attempting to mobilize research findings into actual government policies – it can be very frustrating – but you have to keep on fighting for what you believe in!
Looking outward
What advice would you give to a junior colleague or student just starting their career?
Care about your work, have passion for your students – push them to be committed, thoughtful, caring and ethical professionals; and carve out a research area that can contribute meaningfully to a healthier world.
What motivates you?
My students, the Clinic, the Shelter, my colleagues and the youth/adults with whom I work in practice.
Looking forward
If you could only accomplish one thing in your career, what would it be?
Provide a meaningful link between my research and practices in the community to support marginalized population and build better health outcomes for those excluded from mainstream culture.
Is there anything else you would like to share about your research?
Informed by some of my research, I am honored to be able to Co-Direct a Community Clinic that supports marginalized people in our communities.