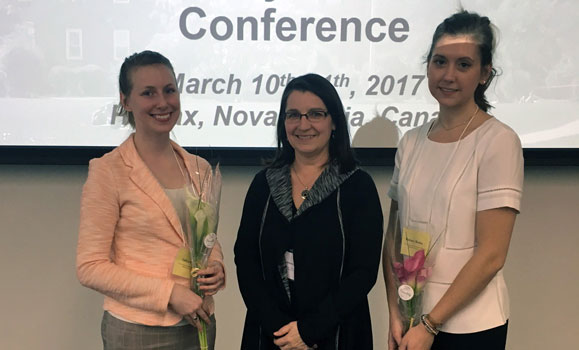 This year's Crossroads Interdisciplinary Health Research Conference was a real milestone. The event celebrated its 15th anniversary – making it one of the longest running student-led conferences of its kind - with the largest number of delegates and attendees in its history. Over 200 abstracts were received from 40 universities representing a vast array of disciplines and fields. For the first time, some of these submissions came from student health researchers beyond Canadian borders, reflecting a larger trend in health research moving toward global collaboration to address health issues and inequities.  
Student co-chairs Caitlyn Ayn and Brittany Barber, Master of Arts Candidates in Health Promotion in the School of Health and Human Performance, are very pleased with the response to this year's event, which – in another first – was developed in partnership with several affiliate organizations including the Healthy Populations Institute (HPI), the Canadian Society of Biomechanics (CSB) and the Indigenous Health Interest Group (IHIG).  With a special focus on interdisciplinary approaches to health inequities, 160 of the reviewed abstracts were presented during the two-day event held on March 10 – 11, 2017.
From food security to biomechanics
The first day of the conference, hosted at the Halifax Central Library, featured a keynote panel on food security with experts from across the region.  The second day of the conference, hosted at Dalhousie's Collaborative Health Education Building, featured a keynote session on Aboriginal health research by Dr. Barry Lavallee from the University of Manitoba and a panel discussion on "Biomechanics in Atlantic Canada" with researchers from Dal and Acadia.
Day two also featured oral and poster presentations by students – a highlight of the weekend's proceedings.  Part of what makes the Crossroads conference so unique is that it provides both undergraduate and graduate students with a rare opportunity to share their research and develop their presentation skills in a supportive, collaborative environment.  Congratulations to the eighteen students who claimed awards for top presentations in both poster and podium categories – full details of the winners can be found on the Crossroads website. 
Kudos to the Crossroads organizers on a successful conference – we look forward to seeing what's ahead in 2018.
Learn More