News
»
Go to news main
Research Profile ‑ Dr. Mohammad Hajizadeh
Posted by
Mohammad Hajizadeh
on February 27, 2017 in
Research
The Research Profile is an in depth look at research being conducted in the FHP. Each profile highlights the research achievements, goals and interests of a faculty member in their own words.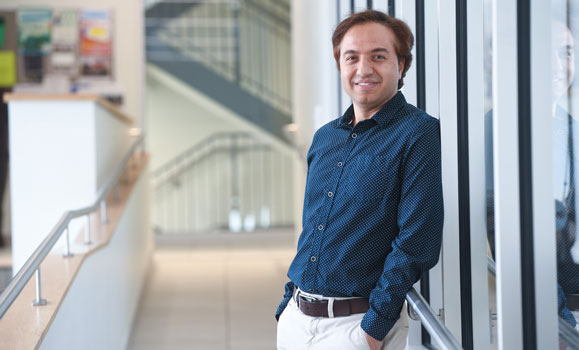 Name: Mohammad Hajizadeh
Title(s): Assistant Professor
Degrees: Ph.D. Economics, MSc Health Economics, BA Health Admin
FHP School: Health Administration
Years employed at Dal: 2 years (Started in July of 2014)

Research Snapshot
When and how did you decide that health research would be your career?
When I was taking my undergrad in Health Administration, I enrolled in an economics course. I knew then that I wanted to do economics. I was passionate about both economics and health but I wanted to continue to do a Masters in just economics. In the end, it worked out because I was able to combine both passions with a brand new program that just started when I graduated, a Masters in Health Economics. It was during my masters that I knew I wanted to be a health researcher.
How does your research impact the everyday lives of Canadians? 
I am an applied researcher, by that, I mean all the research questions that I pose are directed in a way that it will answer one question that can be used in policy decisions, or used to plan a strategy or intervention. I have done multiple studies in developed and developing countries and for each one, I write about the policy implication outlined. In the Canadian context, for example, my colleagues and I recently published a paper on the socioeconomic gradients of health in Canada. The study showed that the gap is widening between the rich and poor, specifically among women. This indicates that there is something happening to widen the gap. Perhaps we need to look at the distribution of education and income in policies when we aim to address inequality in health. Also, I am currently working on a study that looks at the wait times in the health care system. The results indicated that individuals of higher income have a lower wait time to access health care than those of lower income. This opens another question for policymakers around how we address these gaps.
Looking back
What's been most unexpected about your career to date?
How everything lined up perfectly. All the things that happened, they all lined up in a way that brought me here to Dalhousie. As I graduated from my undergrad, my university started a new Masters program in Health Economics, which was perfect timing for me. I was the first to graduate from the Masters of Health Economics program in Iran. This led me to Australia to do my PhD in Economics and to Canada for my post-doc. I was in the second year of my post-doc at McGill and I saw that there was a posting for Health Economics at the School of Health Administration, and I knew this had to be my home. Originally, I was not looking for a job, as I was planning on returning to a faculty position in Iran. I just happened to find it online and it was so perfect with my background. I applied and got the job, and now here I am at Dalhousie.
What made you want to be a part of Dalhousie?  
Dalhousie's reputation at national and international levels.

Looking outward
What advice would you give to a junior colleague or student just starting their career?
The best way to learn is being involved with other people's projects as well as writing down new ideas. There are several researchers at Dalhousie you can collaborate with and learn from. Collaborating with senior researchers will provide learning experiences, even if you are only working on one section of the project.
How has the prevalence of social media and other forms of online communication influenced your research?
I believe that social media and other forms of online communication provide a bridge between health researchers and policy makers. My research topics are influenced by the current issues discussed and highlighted in mass media.
What motivates you?
The sense of accomplishments from having a study published or presented at national and international conferences. In addition, finding clear policy implications to improve health and reduce social inequalities in health in society.   
Looking forward
What's next for you in your work?
Currently, I am working with colleagues on Indigenous population health inequality. With other colleagues, I am just starting research on socioeconomic inequality of different cancers in Canada. These are my two main projects right now, but I also collaborate on other projects once and a while.