Alumni Outside the Box is a regular column profiling FHP alumni who are using their health professions' degrees in new or unique ways.
When you think of a pharmacist you may picture someone dispensing prescriptions at community drugstores, but today's pharmacists can be found in hospitals, offices, classrooms and beyond. College of Pharmacy Alum Heidi Staples, Warren Meek, and Kristy Shortall-Cain are all doing unconventional work with their pharmacy degrees.
Kristy Shortall-Cain: The adventure pharmacist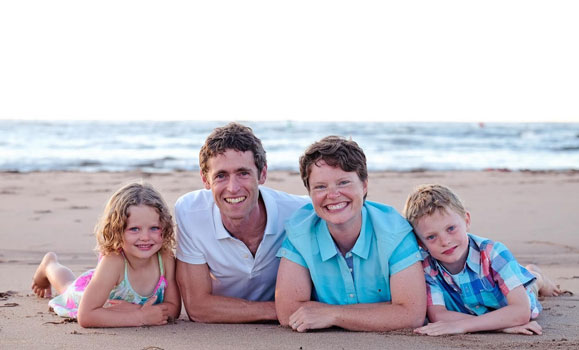 While studying at Dalhousie, Kristy Shortall-Cain remembers being told that a career as a pharmacist offered opportunities outside the traditional pharmacy. She never imagined that this could include travelling by canoe to reach patients!
Growing up in Sussex, New Brunswick, Kristy stumbled onto pharmacy as an undergraduate science student when a friend suggested it.
"I did some hunting about what it involved, and some job shadowing," says Kristy. "At that time you had to do the PCAT entrance exam, so I did that, put my eggs all in one basket, and applied to Dal."
It worked out well: she got into Dal's College of Pharmacy. Upon graduation – convinced that community-based pharmacy was what she enjoyed best – she began working at a Lawtons Drug Store in Halifax.
Changing Direction
After getting married and spending two-years at Lawtons, Kristy and her husband moved to Ottawa, where she was offered a job managing several pharmacies.
"I was in charge of about a dozen stores between Ottawa and Toronto. I was only in my mid-twenties, and I was learning a lot about pharmacy and managing people," she says.
After a couple years – and with kids on her mind – Kristy began looking for a job with less frequent travel, that still offered a bit of adventure.
Ready for take-off
During her search, she was struck by one posting that required applicants be "willing to travel by small plane or boat." Intrigued, she applied.
"I got the position as a Pharmacist with First Nations and Inuit Health, and did that for about 10 years, flying into communities that couldn't be reached by car, working with nurses at nursing stations," she says. "I supported them through continuing education around medications, answering drug-related questions, and did a lot of work with narcotics and controlled drugs that were kept on site."
"Adventure Pharmacy" is what Kristy calls the few times a year she would travel to Northern Ontario communities by small plane or boat and – on one memorable occasion – by canoe.
Kristy recently moved to a new position with Health Canada studying and finding ways to prevent medication errors. "One of the pluses of my Health Canada job is positively affecting health care on a larger scale."
While she spends more time behind a desk these days, she has not left her love of community pharmacy behind: she dispenses at a local Shoppers Drug Mart one day a week.
Heidi Staples: Dispensing innovation
As a child, Heidi Staples recalls closely watching her father count out colourful pills and dispensing advice at his drugstore. A family of pharmacists for generations, Heidi can't say she ever saw herself as one.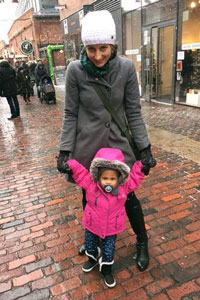 Despite a keen interest in the arts, Heidi pragmatically chose to pursue pharmacy and graduated with a Bachelor of Science in Pharmacy in 1995. After a less than inspiring job working at a chain drugstore, however, she began to have second thoughts about her fit in the profession.
"I learned that my interests are much broader, and as a result my career pivoted," says Heidi. Frequent questions from clients about nutrition and supplements, as well as mounting frustration about what she believed to be too much reliance on pills to undo lifestyle indiscretions, led her to her next step: a Master's in Human Nutrition from McGill.
Heidi Staples and her two-year old niece (left) in Toronto's Distillery District (Rosalind Staples-Simpson photo)
Mastering Success
Upon completion of her Master's, she worked with her supervisor as a study coordinator for the ACCORD trial, a large North American diabetes study.
"It was an incredible opportunity, allowing me to use a lot of different skills, including my creativity," says Heidi, who had considered a degree in fine arts before deciding on pharmacy. "I ended up creating some cartoons to support a trial-wide recruitment and retention manual, as well as illustrating a couple of patient education booklets on diabetes medications and managing low blood glucose."
Six years later her contract in the trial ended, and she returned to the Maritimes to work as a clinical pharmacist at the Moncton Hospital. There, she worked on various patient care units including the cardiac ward and the emergency department - her favourite rotation. "I loved the emerg, the problem solving, and being part of a dynamic, high-functioning interdisciplinary team. By contrast, I can remember being a student and working in the hospital and not really enjoying it, so it's interesting to see how one's perspective can change over time" she laughs.
Opportunity Calls
While in Moncton, Heidi was contacted by the Canadian Agency for Drugs and Technologies in Health (CADTH) for an opportunity in knowledge translation in Ottawa.
CADTH opened up new possibilities for her, building on the research experience she had acquired from her time in Montreal. Eventually, Heidi transferred to the Common Drug Review (CDR) to work as a clinical research analyst - or "forensic accountant" as she jokingly refers to it - where she put her natural critical thinking skills and attention to detail to work reviewing and critiquing the evidence base for newly-marketed drugs.  
After several years at CDR, Heidi felt a need to integrate more creativity into her work, so she decided to pursue a secondment opportunity at the Public Health Agency of Canada. There, she developed an idea for an app-based behavior change incentive program to promote healthy transportation choices and also participated as a member on a whole-of-government Deputy Ministers Committee on Policy Innovation.
Heidi's unique career path led her to discover her core interests and values, "I've become increasingly interested in issues like sustainability, affordability and social inequities; acting as a 'watchdog' on the pharma industry on behalf of patients and in movements like Deprescribing and Choosing Wisely Canada," she says " I think what's next for me is a return to a mix of clinical practice along with some pharmaceutical policy research - with, hopefully, a healthy dose of creativity."


Warren Meek: Making a global impact
In February 2007, Warren Meek, a recently retired pharmacist volunteered his skills and knowledge for the first time in Tanzania, and he has not stopped since.
A recent retiree – he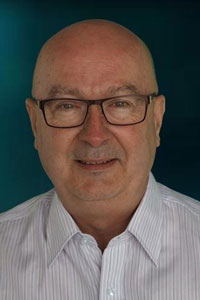 owned and managed various pharmacies for Shoppers Drug Mart after graduating from Pharmacy in 1977 – Warren had officially retired from dispensing and guiding local patients, but he didn't leave the profession.
Today, he is president of C7 Consulting, and a decade long volunteer in Eastern Africa. Through the Canada Africa Community Health Alliance (CACHA), a small group based out of the University of Ottawa, he volunteers with other health professionals to provide care overseas, particularly in Tanzania.
Warren Meek (Provided photo)
"We go to a village where we put up a medical clinic for the day, we registrar people, we triage people, we try to assess and diagnose what illnesses they might have," he says. "I and other pharmacists will try to dispense if we have medications available, and we will do that the next day, the next day, and the next."
Warren volunteers with CACHA once or twice a year, and he encourages other health professionals to lend their skills to worthy causes. "There is humanitarian work to be done, and it doesn't have to be in Tanzania, it can be in downtown Halifax," he says.
His retirement projects don't stop there, he continues to be active with the International Pharmaceutical Federation (FIP) as an advocate for professional advancements. Recently, he was in Buenos Aires exploring a "Self-Care" initiative aimed at encouraging citizens to be responsible for their own healthcare.
As he explains, it's people taking care of themselves when they can "while having the confidence, competence, and access to the right healthcare provider if and when they need it." He and his colleagues are planning to bring a policy statement on Self Care to the next FIP meeting in Korea this fall.
A Fondness for Pharmacy
Despite official retirement, Warren can't help doing relief shifts from time to time at a small pharmacy. "If I'm going to be involved in the International Pharmacy Federation representing community pharmacy, I want to have an idea of what's still going on," he explains.  
He quickly adds, "I love pharmacy and want to be engaged that little bit.