Noreen

Kamal

,

PEng, PhD
Associate Professor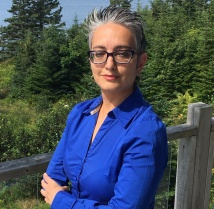 Email:
noreen.kamal@dal.ca
Phone:
(902) 494-3293
Mailing Address:
Industrial Engineering PO BOX 15000 Halifax, NS B3H 4R2

Research Topics:
Quality Improvement
Health Care Systems
Modeling
Stroke
Implementation Science
Knowledge Translation
Data Visualization
Lab
Health Care Optimization and Analytics Lab (H-COAL)
Education
BSc, University of Calgary
MASc, University of British Columbia
PhD, University of British Columbia
Research
Full listing of publications available on: Google Scholar, ResearchGate
Projects
Designing and Deploying a National Registry to Reduce Disparity in Access to Stroke Treatment and Optimize time to Treatment. NSERC Alliance (Partners: Medtronic and Lumiio), 2023-2026.
Evaluation of the Synaptive 0.5 T Evry MRI: Potential Improvement in Patient Outcomes and Reduced Cost to the Health System and Patient. Mitacs (Partner: Synaptive). 2022-2024.
Optimizing Access to Endovascular Treatment for Rural Acute Ischemic Stroke Patients. Nova Scotia Health. 2022-2025.
Atlantic Canada Together Enhancing Acute Stroke Treatment (ACTEAST): Improving Access and Efficiency of Treatment. CIHR Project Grant Funded. 2020-2023. ACTEAST
Health Care System Optimization and Analytics. CFI – John R Evans Leaders Fund & Research Nova Scotia. Infrastructure Funding
Develop Theories and Methodologies for Improved Treatment Times in Integrated Emergency Department Systems. NSERC Discovery Grant Funded. 2020-2025
Awards and Recognitions
Member of the College of the Royal Society Canada, 2021
2020 President's Research Excellence Award - Emerging Investigator, Jul. 2020; Dalhousie University.
1st Place Winner. INFORMS 2019 – Poster Presentation Award.
Profile
Dr. Noreen Kamal's primary research interest is in designing and improving health care systems such that they match the progression of the disease to make significant impact on the lives of patients. She has worked in the health care sector for 15 years, where she has worked to improve emergency department flow, management of sepsis, and most recently acute stroke systems. Prior to joining the health care sector, she worked in industry for 6 years, where she specialized in industrial process control across various sectors.

In recent years, she has significantly improved treatment times for acute stroke patients across the entire province of Alberta. She worked with experts and hospital teams to reduce treatment times to 36 minutes from 68 minutes. This work received national media coverage.

Additionally, she has done extensive research on the causes of delays in stroke treatment as well as the changes that lead to faster treatment. In addition to her work on improving treatment times, she has also done extensive research into the most appropriate transport routing for stroke patients to access EVT, which was used by health systems in the US, Europe and Asia.

She is also interested in interactive information visualization and visual analytics for using health data to make informed decisions. This interest is augmented by her research experience in Human-Computer Interaction.
Selected Publications
Kamal N, Jeerakathil T, Stang J, Liu M, Rogers E, Smith EE, Demchuk AM, Siddiqui M, Mann B, Bestard J, Lang E, Shand E, Benard M, Collins L, Martin K, Hartley C, Reiber M, Valaire S, Mrklas KJ, Hill MD for the QuICR Alberta Stroke Program. Provincial Door-to-Needle Improvement Initiative Results in Improved Patient Outcomes Across an Entire Population. Stroke. 2020;51:2339–2346.  https://doi.org/10.1161/STROKEAHA.120.029734 
Kamal N, Wiggam MI, Holodinsky JK, Francis MJ, Hopkins E, Frei D, Baxter B, Williams M, Nygren A, Goyal M, Hill MD, Jayaraman M. Geographic Modeling of Best Transport Options for Treatment of Acute Ischemic Stroke Patients: Applied to Influencing Health Policy in the USA and Northern Ireland. IISE Transactions on Healthcare Systems Engineering. 2018. https://doi.org/10.1080/24725579.2018.1501623
Kamal N, Shand E, Swanson R, Hill MD, Jeerakthil T, Imoukhuede O, Heinrichs I, Bakker J, Stoyberg C, Fowler L, Duckett S, Holsworth S, Mann B, Valaire S, Bestard J. Reducing door-to-needle times for acute ischemic stroke to a median of 30 minutes at a community hospital: a cohort study. CJNS. 2018;00 1-6 (first view) https://doi.org/10.1017/cjn.2018.368
Holodinsky JK, Williamson TS, Demchuk AM, Zhao H, Zhu L, Francis MJ, Goyal M, Hill MD, Kamal N. Drip 'n ship vs. mothership: modelling stroke patient transport for all suspected large vessel occlusion patients. JAMA Neurology. 2018; 75(12):1477-1486. http://dx.doi.org/10.1001/jamaneurol.2018.2424
Kamal N, Smith EE, Jeerakathil T, Hill MD. Thrombolysis: Improving door-to-needle times for ischemic stroke treatment, a narrative review. International Journal of Stroke. 2018; 13:268-276. https://doi.org/10.1177/1747493017743060
Kamal N, Sheng S, Xian Y, Matsoualka R, Hill MD, Bhatt D, Saver J, Reeves M, Fonarow GC, Schwamm LH, and Smith EE. Delays in door-to-needle times and their impact on treatment time and outcomes in Get With the Guidelines Stroke. Stroke. 2017;48:946-954 https://doi.org/10.1161/STROKEAHA.116.015712
Kamal N, Holodinsky JK, Stephenson C, Kashyap D, Demchuk A, Hill MD, Vilneff R, Bugbee E, Zerna C, Newcommon N, Lang E, Knox D, and Smith EE. Improving door to needle times for acute ischemic stroke: effect of rapid patient registration and giving alteplase in CT. Circulation: Cardiovascular Quality and Outcomes. 2017; 10: e003227. https://doi.org/10.1161/CIRCOUTCOMES.116.003242
Milne M, Holodinsky J, Hill MD, Nygren A, Qiu C, Goyal M, and Kamal N. Drip 'n ship vs. mothership for endovascular treatment: modeling the best transportation options for optimal outcomes. Stroke. 2017;48:791-794. https://www.ahajournals.org/doi/full/10.1161/STROKEAHA.116.015321
Kamal N, Smith EE, Menon B, Eesa M, Ryckborst K, Poppe A, Roy D, Thornton J, Williams D, Casaubon L, Butcher K, Shuaib A, Rempel J, Jovin T, Sapkota B, Demchuk A, Goyal M, and Hill MD. Improving reperfusion time and patient selection within the ESCAPE endovascular clinical trial. European Stroke Journal. 2017; 2(10)64-69. https://journals.sagepub.com/doi/full/10.1177/2396987316681176
Kamal N, Lindsay MP, Cote R, Fang J, Kapral MK, and Hill MD. Ten-year trends in stroke admissions and outcomes in Canada.  Canadian Journal of Neurological Sciences. 2015;42(03):168-175. https://doi.org/10.1017/cjn.2015.20
Kamal N, Barnard DK, Christenson JM, Innes G, Grafstein E, and Marsden JJ.  Addressing emergency department overcrowding through a systems approach using Big Data research. Journal of Health & Medical Informatics. 2014;5:148. https://doi.org/10.4172/2157-7420.1000148