What is ACTEAST?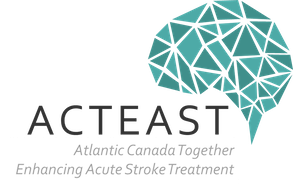 ACTEAST aims to improve access and efficiency of treatment for ischemic stroke across all 4 provinces in Atlantic Canada.

Stroke is a devastating disease, as it is the leading cause of severe physical disability. Ischemic stroke is the most common form of stroke, and it is treatable with medical treatment (thrombolysis)  and a new minimally invasive surgical procedure (Endovascular Thrombectomy - EVT). These treatments can transform lives, but minutes matter for improving outcomes.
ACTEAST aims to increase the proportion of ischemic stroke patients receiving treatment, and improve the efficiency of treatment.  We will carry out this work across all of the Atlantic provinces: Nova Scotia, New Brunswick, Prince Edward Island, and Newfoundland & Labrador.
This project is necessary to improve outcomes for patients, learn more about ACTEAST.  We have leading researchers, clinicians and health care administrators from across Atlantic Canada on our team, view our full ACTEAST Team.