PhD Candidate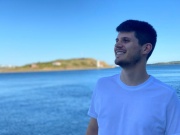 Tobias Gerhard Schminke obtained a Bachelor of Arts in Media and Communication Science with a Political Science minor at the Johannes Gutenberg University in Mainz, Germany, and Haifa University, Israel (Year Abroad Program). He graduated with a Master of Arts in International Development Studies from Saint Mary's University in Halifax, Canada, in 2020. For his field research on trade union organizing in the informal economy in Uganda, Schminke received the Governor's Gold Medal and the James Morrison International Development Studies Medal. Tobias Gerhard Schminke is the founder of the election observatory Europe Elects, which POLITICO described in 2019 as one of the most influential media in the EU Parliament. With funding from the German government, Schminke had the opportunity to live in Kenya and Tanzania.

Research interest:

Comparative politics (elections, voting intention, political parties, party systems, transnational party integration) as well as international development studies (political economy, labour and development, trade unionism). Media and politics (reception research, political communication).
Academic Publications: 

Schminke, T. G., & Fridell, G. (2021). Trade union transformation and informal sector organising in Uganda: The prospects and challenges for promoting labour-led development. Global Labour Journal, 12(2). https://doi.org/10.15173/glj.v12i2.4394
Schminke, T. G. (2020). Labour-centred development and decent work: a structuralist perspective on informal employment and trade union organizing in Uganda (thesis). Saint Mary's University, Halifax.
Memberships:
German Academic Scholarship Foundation Studienstiftung (Alumni)