Susan Manning
PhD Candidate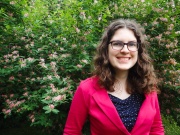 Originally from Newfoundland, Susan completed her Bachelor of Arts (Honours) in Gender and Women's Studies & International Development Studies at Trent University, before moving back to the east coast to pursue a Master of Arts in Women and Gender Studies at Mount Saint Vincent University. Her Master's thesis research explored how colonization, resettlement and outmigration could be understood as related stories of displacement for Newfoundland women.
Susan's dissertation research (co-supervised by Dr. David Black and Dr. Deborah Stienstra) identifies best practices for mitigating, through government-mandated regulatory processes, the negative social impacts that often accompany natural resource extraction in communities in Northern Canada. As resource extraction intensifies in Canada, particularly near rural, remote and Indigenous communities, this research will broaden the conversation about the responsibilities of government and corporations in relation to community impacts of resource projects. Susan is using the Muskrat Falls Hydroelectric Dam in Happy Valley-Goose Bay, Labrador, as a case study.
More generally, Susan's research interests include intersectional and arts-informed methodologies, the social and political dimensions of gender-based violence, and the gendered and intersectional implications of resource extraction and global development. In her free time, Susan enjoys spending time outside playing with her dog, hiking, skiing and kayaking, and volunteers in several roles with Girl Guides of Canada.
More information about Susan's work can be found on her personal website: www.susanmmanning.com  
Selected Publications:
Stienstra, D., Baikie, G., & Manning, S.M. (in press). "My granddaughter doesn't know she has disabilities and we are not going to tell her": Navigating Intersections of Indigenousness, Disability and Gender in Labrador. Disability and the Global South
Manning, S.M. (2018). Contrasting colonisations: (Re)storying Newfoundland/ Ktaqmkuk as Place. Settler Colonial Studies, 8(3), 314-331. http://www.tandfonline.com/doi/full/10.1080/2201473X.2017.1327010
Manning, S.M. (2018). Collaborative poetic processes: Methodological reflections on co-writing with participants. The Qualitative Report, 23(4), 742-747. https://nsuworks.nova.edu/tqr/vol23/iss4/2/
Manning, S.M. (2017). 'It's the best place on Earth': Newfoundland women's outmigration, diaspora and the myth of return. Gender, Place & Culture, 24(10), 1460-1479. http://dx.doi.org/10.1080/0966369X.2017.1383362
Stienstra, D., Manning, S.M., Levac, L., & Baikie, G. (2017) Generating prosperity, creating crisis: Impacts of resource development on diverse groups in Northern communities. Community Development Journal. https://doi.org/10.1093/cdj/bsx022
Manning, S.M., Johnson, P., & Acker-Verney, J. (2016). Uneasy intersections: Critical understandings of gender and disability in global development. Third World Thematics 1(3), 292-306. http://www.tandfonline.com/doi/full/10.1080/23802014.2016.1242091

Manning, S.M. (2016). Intersectionality in resource extraction: A case study of sexual violence at the Porgera mine in Papua New Guinea. International Feminist Journal of Politics 18(4), 574-589. http://dx.doi.org/10.1080/14616742.2016.1189670
Manning, S.M. (2015). The potential of government intervention in violence against women: Lessons from Newfoundland and Labrador. Atlantis: Critical Studies in Gender, Culture & Social Justice 37(1), 156-167. http://journals.msvu.ca/index.php/atlantis/article/view/2841   
Selected Conference Presentations:
Manning, S.M. (2018). More work to be done: Evaluating gender and diversity analysis in resource extraction. Presented at annual conference of Women and Gender Studies et Recherches Féministes, University of Regina, Regina, Saskatchewan, May 27-30.
Manning, S.M. (2017). "The Power is in Our Hands": Conflicting Values and Visions in the Lower Churchill Hydroelectric Project. Paper presented at Damned by Dams: Artefacts of Modernization and Conflicts of Transformation workshop, University of Duisburg-Essen, Germany, October 26-27.
Acker-Verney, J. and Manning, S. (2015). Facilitating inclusion and access for diverse populations in research and beyond. Workshop delivered at Symposium on Emergent Trends in Research with Vulnerable Young People, Children and Youth in Challenging Contexts (CYCC) Institute and Atlantic Health Promotion Research Centre, Dalhousie University, Halifax, Nova Scotia, November 20-21.
Manning, S. (2015). Contrasting stories of colonization in Newfoundland: Creating political possibilities. Presented at the annual conference of the Atlantic Political Science Association, Mount Saint Vincent University, Halifax, Nova Scotia, September 25-27.
Manning, S.M. (2015). Living away and longing for home: Reflections on experiences of outmigration among Newfoundland women. Presented at annual conference of Canadian Sociology Association, University of Ottawa, Ottawa, Ontario, June 1-5.
Manning, S.M. (2015). Living away: The poetics of displacement in Newfoundland. Presented at Contesting Canada's Future: International Conference on the Study of Canada, Trent University, Peterborough, Ontario, May 21-23.
Manning, S.M. (2014). Acts of resistance: Young girls' experiences of violence in their homes. Presented at annual conference of Women and Gender Studies et Recherches Féministes, Brock University, St. Catherines, Ontario, May 25.
Major Awards:
Killam Trusts, Dalhousie University – Honourary Level 2 Izaak Walton Killam Predoctoral Scholarship (2017-2020
SSHRC Joseph Armand-Bombardier Canada Graduate Scholarship – Doctoral (2016-2019)
Dalhousie University President's Award (2016-2018)
Dalhousie University Special Provost-Alumni Scholarship (Declined)
Mount Saint Vincent University Senate Award of Distinction (2016)
SSHRC Joseph Armand-Bombardier Canada Graduate Scholarship – Masters (2014-2015)
Trent University Symons Medal (2013)
Trent University Shad Valley Alumni Scholarship (2009-2013)
Terry Fox Humanitarian Award (2009-2013)