Adam MacDonald
PhD Candidate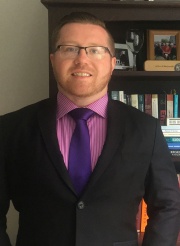 Adam P. MacDonald is a PhD candidate in the Political Science Department at Dalhousie University. He is, also, a member of two Department of Defence funded academic networks - The Defence and Security Foresight Group (https://uwaterloo.ca/defence-security-foresight-group/) and the North American and Arctic Defence and Security Network (https://www.naadsn.ca/), and regularly posts and comments on Twitter - @adampmac - on Canadian military and foreign policy issues. He is a Killam Scholar and hold a Department of Defence MINDS Doctoral Scholarship. In September 2020 he began a two-year Fellowship at the Canadian International Council (https://thecic.org/en/)
He was born and raised in the small town of Stayner, Ontario until he joined the Canadian Armed Forces as a Naval Warfare Officer when he was seventeen years old. Over a fifteen-year career, he worked in command headquarters, force support functions and deployed operations as well as earned a BA in Political Science from the Royal Military College of Canada and a MA in Political Science from the University of Victoria.
His doctoral work seeks to understand American decision-making towards China and Russia in the transition to the post-Cold War era in order to explain the differences in approaches taken towards each, how these became entrenched policy, and to what degree this contributed (or not) to the souring of these relationships. As well, he works on exploring the impacts of the burgeoning strategic competition between China and the United States on Canada, including how Ottawa can work with other secondary powers to mitigate the excesses of this rivalry and the unique challenges both great powers present to the changing political and security dynamics in the Arctic and East Asia.
He can be contacted at adam.macdonald@dal.ca
Research Interests

International Relations Theory: great power relations; power transitions and the nature of revisionism; international and regional order formation, evolution, and contestation; and nuclear weapons and deterrence
Canadian defence and foreign policy: naval acquisition and deployments; military operations, specifically in East Asia and the Arctic; and continental defence
Select Publications

"The Case for Canadian Naval Ballistic Missile Defence." Canadian Naval Review 14:3(2019): 4-9.
"Perpetual Transitions: The Institutionalization of Military Tutelage Systems in Myanmar and Thailand." Asian Affairs: An American Review 45.3-4 (2018): 139-64.
"China Looking North: Compromising Canada's Arctic Sovereignty and Security?" Canadian Military Journal 18.1 (2017): 4-15.
"China's Evolving Nuclear Forces: Changes, Rationales and Implications." Journal of Military and Strategic Studies 18.1 (2017): 116-144.
The Canadian Armed Forces and the Arctic: Maintaining a Suitable and Sustainable Role. Ottawa, ON, CA: Conference of Defence Associations Institute, 2016.
"A Canadian Naval Turn to East Asia in the Making? Interests, Expectations and Challenges." Canadian Foreign Policy Journal 20.3 (2014): 334-47
Select Conference Papers

"Asian Pressures, Arctic Implications: Canada's Freedom of Navigation Challenge" presented at the CDA Institute E3 Symposium at the Balsillie School of International Affairs on 07 May 2019.
"The Manifestation of Great Power Competition at Sea: The Rise of Exemptionalism", presented at the Past, Present, and Future of International Order Conference at the University of Copenhagen on 06 May, 2019.
"Precarious Existence or Staying the Course? The Foundations and Future of Arctic Stability", presented at the 2019 RCMI Defence and Security Studies Conference: Global Challenges to Canadian Sovereignty in the Arctic on 24 April 2019 in Toronto, Ontario.
Professional Affiliations

Nova Scotia Health Authority Research Ethics Board, 2015 – Present
Royal United Services Institute (Nova Scotia), 2016 – Present
International Studies Association, 2017 – Present
Canadian Political Science Association, 2018 – Present
Scholarships
Killam Scholarship, 2019-2022
SSHRC - Joseph-Armand Bombardier Canada Graduate Scholarship, 2019-2022