Departmental Award Recipients 2021
French Department Scholarship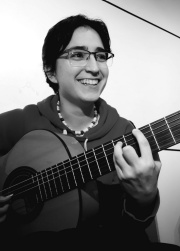 Ana-Maria Garniceanu
Bachelor of Science: Major in Biochemistry & Molecular Biology and French

Ana-Maria irradie la bonne humeur et la vitalité d'esprit: quel que soit le texte qu'elle analyse, il lui dévoile des secrets qu'elle parvient ensuite à partager, sans effort semble-t-il, dans les cours ou ses travaux. J'ai été ravie de son travail tout ce semestre et regrette de ne l'avoir connue que tardivement - Dr. Marie Pascal
Félicitations, chère Ana-Maria !
Ana-Maria est une étudiante exceptionnelle, brave et appliquée tant au niveau académique qu'au niveau social.
J'ai l'honneur de travailler avec Ana-Maria cette année. Comme assistante, elle fait son travail à merveille, respectant les échéances et fournissant des remarques précises aux étudiants.
Ana-Maria est une personne bien organisée qui possède un esprit curieux et beaucoup de talents scientifiques et artistiques. Elle est toujours prête à apprendre de nouvelles compétences.
Comme membre actif du French Club, son dévouement et son engagement ne passent jamais inaperçus. Malgré les circonstances difficiles de la pandémie, Ana-Maria fait de son mieux pour organiser et participer à tous les évènements du French Club.
Ana-Maria est quelqu'un de très généreux qui fait également du bénévolat pour des associations à but non lucratif à Halifax.
Je suis heureuse que votre succès soit récompensé par le prestigieux Prix du Département de Français, un honneur bien mérité. Bravo, chère Ana-Maria! - Prof. Taghrid Abou Hassan
Ruth Murray Scholarship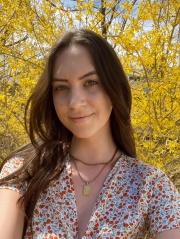 Juliana Murphy
Bachelor of Arts: Major in French
Juliana is a hard-working student, with a laudable intellectual curiosity: a willingness to take the time to learn, and write, about topics outside of her comfort zone, without taking shortcuts. It is a pleasure to have students such as Juliana in one's classrooms, as she readily accepts all challenges thrown at her – my classes have more than their fair share of unusual assignments – patiently does the work, and produce papers that are both succinct and well-articulated. She is well-deserving of the Ruth Murray Scholarship. Congratulations, Juliana ! - Dr. Vincent Masse

Sabah Metlej French Scholarship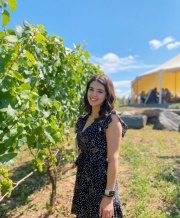 Gabrielle Mourad
Bachelor of Science: Major in Biology and French
Toutes mes félicitations Gabrielle pour ce prix. Tu le mérites!
"C'est pour vous dire que tout ça ne s'improvise pas. Il faut de l'ambition, du talent, de la foi et de l'amour pour ce qu'on fait" (Mabanckou, Bleu Blanc Rouge) - Dr. Vincent Simedoh
Prix de l'Ambassadeur de Suisse au Canada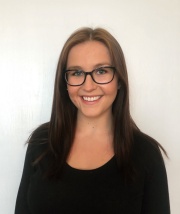 Jade Poirier
Bachelor of Arts: Major in French
J'ai été honorée de l'avoir dans deux de mes cours de littérature. Malgré une réticence préalable à l'analyse de textes littéraires, Jade a su montrer un professionnalisme et une diligence certains dans ces cours pour briller, avec élégance, respect et intelligence, tout au long de cette année en ligne. - Dr. Marie Pascal

Marcelle Cendres Sandhu Memorial Prize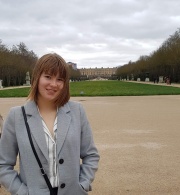 Robyn Easton
Bachelor of Arts: Major in French
Dans deux de mes cours, Robyn s'est distinguée de façon constante par une prestation impeccable aussi bien dans les travaux en classe que lors des interrogations et des examens. Elle est une étudiante motivée, méticuleuse, brillante et déterminée. Son excellente performance globale est le fruit de l'ardeur au travail, d'une compétence intellectuelle indéniable ainsi que d'une grande rigueur et discipline à la tâche. Mes vives félicitations pour ce prix qui est plus que mérité. - Dr. Raymond Mopoho