What is Planning? What Is A Planner?
Planning is a discipline that aims to create healthy, equitable and sustainable communities through the advancement of theory and practice. The Canadian Institute of Planners (CIP) defines the profession as the "scientific, aesthetic, and orderly disposition of land, resources, facilities, and services with a view to securing physical, economic, and social efficiency, and the health and well-being of urban and rural communities." Planners work in a variety of settings in the public, private, and non-profit sectors—e.g. municipal government, planning and consulting firms, and non-profit organizations. A planner may also collaborate with community members, governments, and other professionals like engineers, architects, or public health officials. In Canada, there are about 8,500 professional planners working in these diverse capacities. Here are some examples of types of work planners do:
As a municipal planner:
Develop official plans and zoning that control and regulate land use.
Design public engagement programs and facilitate stakeholder meetings in order to build consensus and resolve public conflicts.
Evaluate the effectiveness of planning interventions using tools like traffic studies or public surveys.
As a planner at a private firm:
Conduct environmental assessment studies for municipalities for infrastructure such as water and transportation systems.
Advise developers on development proposals
Run community engagement and outreach activities as a consultant.
Work at an architecture and planning firm to design and run placemaking activities.
As part of a non-profit or community organization:
Advocate for social justice for equity seeking groups such as communities that are racialized, Indigenous, LGBTQ+ and/or economically marginalized.
Liaise with city councils and city planners to develop inclusive policies.
Organize community campaigns for social issues such as housing rights and environmental justice.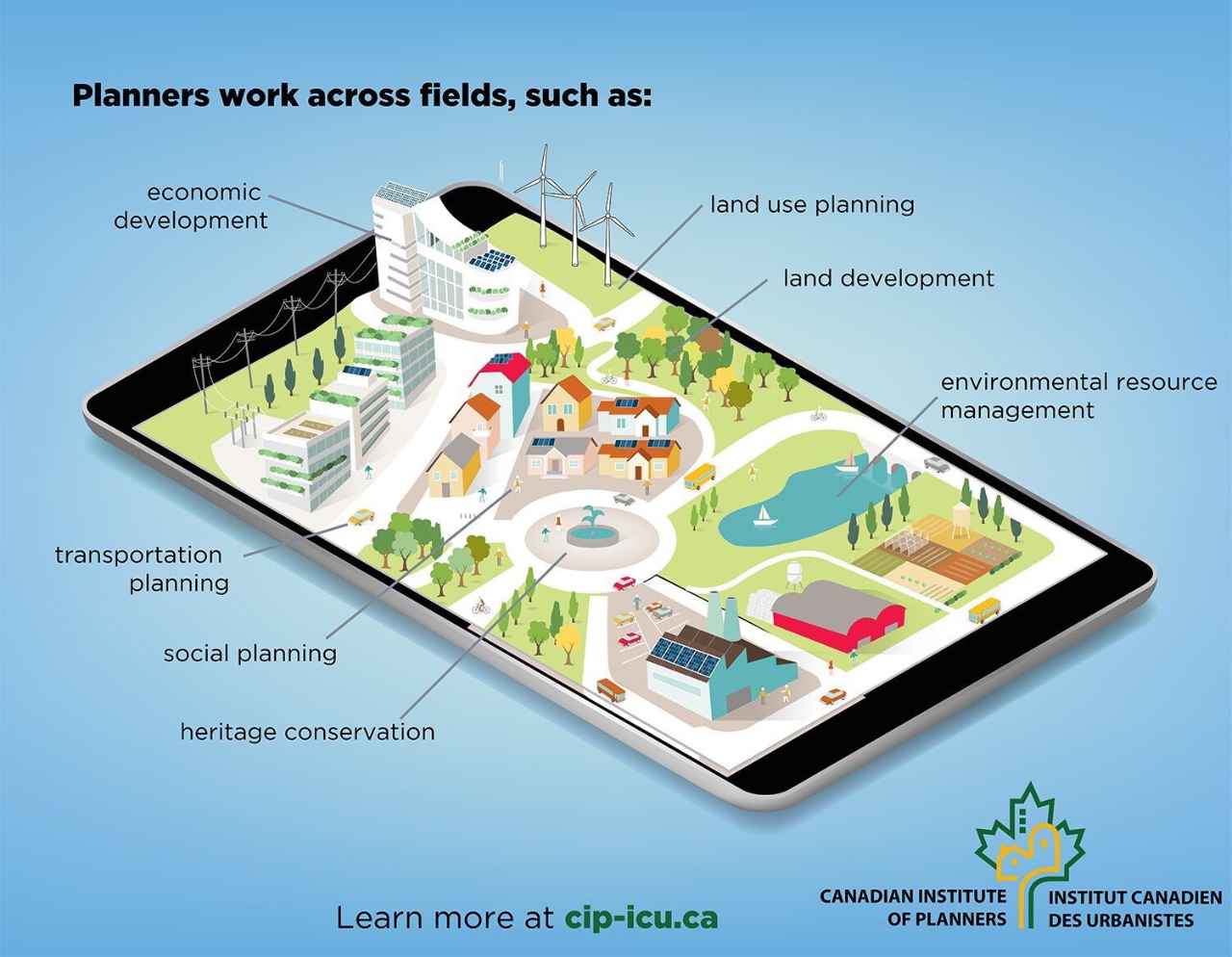 The early roots of the planning field lie in urban and social reform, particularly in the areas of housing, workers' rights, social justice, and public health. Planning has always been an interdisciplinary practice; since the earliest days of the Town Planning Institute in Canada (founded in 1918), members of architecture, engineering or other professions could become planners. This is one reason why planners are uniquely positioned to address many urban problems. Planners are trained with a variety of methodologies and tools to address development challenges, including policy analysis, GIS, population and demographic analysis, community engagement and urban design. Traditionally, planners have been tasked with solving urban issues in areas like housing affordability, transportation access, zoning, and community development. Today, the contributions of planners also focus on the pressing contemporary issues of our time, including climate change, gentrification and racial equity in cities.
Generally, students who opt for a planning degree want to make their communities more sustainable, equitable, and efficient. If you are a well-rounded student with skills and interests in ecology, civic or public administration, politics, and community engagement, you will enjoy planning. If you have done volunteer work in these areas, been politically active in your community, or participated in meetings about urban development in your neighbourhood, planning is for you!
To become a registered planner in Canada, it is advantageous to complete an accredited degree program in planning such as our Master of Planning (MPlan) or Bachelor of Community Design (BCD) Honours, which allows you to be a candidate member of CIP as well as local professional planners associations in a shorter period of time. A handy guide to the membership process can be found here.
Our provincial planning association, the Licensed Professional Planners Association of Nova Scotia (LPPANS), and PLANifax, a non-profit organization founded by two of our BCD alumni, created this video to answer the question, "What is planning?". You may also be interested in the Association of Collegiate Schools of Planning's (ACSP) resources to help you determine whether planning is the right career for you.
Jobs held by our BCD Honours and MPlan alumni include:
Broker, Cascade Sotheby's International Realty, Bend, Oregon
Homelessness and Housing Facilitator, United Way, Halifax, NS
Strategic Transport Planner, Transport for New South Wales, Australia
Planner, City of Yellowknife, NWT
Planner and Urban Designer, Alta Planning + Design, Ottawa, ON
Planners and Urban Designers, Upland Urban Planning + Design Studio, Dartmouth, NS
Planner Consultant and Principle. ZZap Consulting Inc., Dartmouth, NS
Planner Consultant and Manager, WSP Atlantic Canada, Dartmouth, NS
Senior Manager, Planning and Economic Intelligence, Turner Drake and Partners Ltd., Halifax, NS
Heritage Planner, Halifax, NS
Project Manager, Environmental Programs and Assessment, Metrolinx, Toronto, ON
Community Development Assistant, Township of Leeds and the Thousand Islands, ON
Research and Statistics Officer, Nova Scotia Health Authority, Halifax, NS
Real Estate Advisor, Public Works and Government Services Canada, Halifax, NS
Elected Member of Parliament, Parliamentary Secretary to the Minister of Infrastructure and Communities, NS
Elected Municipal Councilors, Halifax, NS