Stephanie Bagnell
By: Michelle Thompson
Two girls, one dream – creating a business.
The Business Management: Pet Specialty program at Dalhousie's Faculty of Agriculture has enabled alumni Stephanie Bagnell, Class of 2015 and Ariana Pinsent, Class of 2016, to create their dream business.
"We both knew we wanted to own a dog-related business," they explained. "Once we found this course offered at the AC we finally felt like we were on the path to building our dream business," they added. "We saw there was an opportunity in the market and decided to take a risk, buy the building and open as a dog daycare, training, grooming and boarding facility."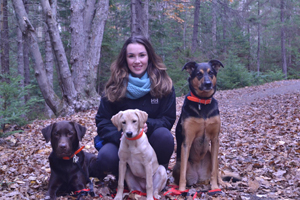 The girls have partnered to create The Dog Company Incorporated. It is dedicated to providing honest and trusting services in order to meet the needs of owners and their dogs. "We use proven, scientific training methods thathave a positive input and output," the girls explained. "We want to help humans and canines live together, in harmony."
Their business, located at 94 Pockwock Road, Hammonds Plains, NS, opened its doors on May 9, 2016 and offers dog daycare, training, grooming and boarding. They also have a small retail section that consists of leashes, collars, treats and clickers.
Ariana and Stephanie pictured above and below respectively, plan on continuing The Dog Company to be a top dog facility in the HRM at affordable pricing. "We hope to expand our facility to accommodate our client's needs – a one stop shop!" they explain.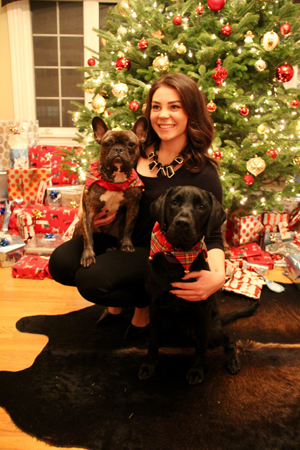 A Vet clinic, retail, dog park and events such as training trials and agility are a few ways they would like to expand on their business. "We would eventually like to introduce working dogs training into our facility as well – police dogs, service dogs, etc." they explain.
Stephanie was born and raised in Truro, NS and Ariana was born and raised in Stephenville, NL. The two girls met at the AC while having shared classes within their program.
The girls are passionate about educating the public about dog behavior and training. "We treasure the hands-on experiences we received at the AC," the girls explain. "We love the uniqueness of the campus and we are extremely grateful for the connections and people we have met throughout our two years at the AC. We learned so much in both the animal and business side of things."
During their time on the Agricultural Campus, both girls trained service dogs and are thankful for how accommodating and accepting the Faculty was about them having their dogs in their classes. "Yan Mowatt and Heather A. Logan are two of our biggest mentors," the girls explain. "They gave us so many opportunities in the dog industry and helped us each step of the way," they added. "We have our families to thank as well, as they have supported us throughout the whole journey."
Stephanie and Ariana both love bringing their dogs on adventures – to the beach, hiking and dog sports such as canicross and field training.