Nadia Davidson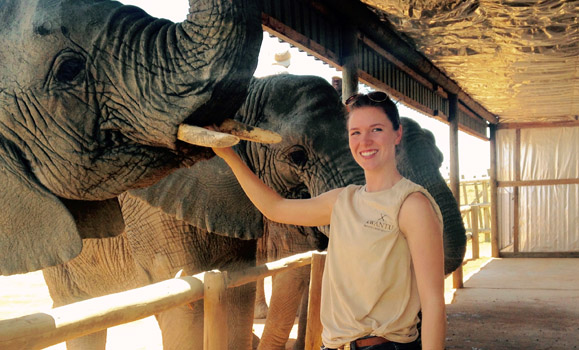 FROM ANIMAL SCIENCE TO AGRI-TOURISM

Nadia Davidson has a dream. One day, and one day soon, she will be running her own business.
In the meantime, she will acquire as much knowledge and experience as possible to turn her dream into reality. The pursuit of her dream has taken her from her home farm to Dal AC, through a program change, to a variety of agricultural businesses in her community, and even all the way to Africa.

Nadia grew up in Gaspereau, NS, on her family's dairy farm, Dabro Farms Inc. Although unsure of the career path she would follow, Nadia had visited the Agricultural Campus (then NSAC) while her brother studied there, and knew it was the university for her.

"I fell in love with the AC the first time I stepped foot in the Horseshoe," Nadia recalls. "It reminded me of home."
Nadia had always enjoyed working with animals, so the Animal Science program was a natural choice for her. What she didn't know was that she also had a penchant for business.
"In 2010, my home farm started a farmer's market, which took off in late 2011. The market really sparked my interest in creating a unique business. I ended up transferring from the Animal Science degree program to the Diploma in Business Management with a focus on agriculture. And I loved it. The DBM program allowed me to control what I learned and to what extent. I chose to focus my diploma on marketing, while still taking classes involved with dairy, poultry and feed nutrition."
This personalized approach obviously worked for Nadia. Upon graduation from Dal AC in 2014, she received the Farm Credit Canada Business Plan Award. She based her entry on her family's farmer's market.

Although Dabro Farms has been in the Davidson family for a century, Dabro Farms Market started out as a mini fridge stocked with a few dozen eggs on the side of the road in 2010. Eventually they added homemade jams, jellies and homemade pies to the mix. In 2014, consumer demand became so high that a retail space was needed. Nadia and her family renovated an old storage barn to create an indoor market. They now sell free range turkey, chicken, beef, lamb and many different homemade goods and items.

Nadia works closely with her family members on the farm, including her father, uncle and cousin. She is responsible for the heifer and calf program and routine barn maintenance. She also manages the social media presence. Nadia loves being a part of the family business, but won't be taking over the operation. Instead, she has plans to build a business of her own.

"My plan is still on the drawing board, but I hope to tap in to the agri-tourism market," she explains. "I'd like to create a unique business of my own, or find an existing business and polish it up."
Nadia has gained experience in a number of areas of agriculture, and intends to incorporate as much of this as possible into her business. She has recently discovered a passion for the wine industry after working with Gaspereau Vineyards for two years, and hopes to pursue this.
And she hasn't forgotten her first love: animals. Nadia knows that whatever her business looks like, animals will be involved in some way. She continues to build her animal-handling knowledge and skills however she can. She recently traveled to South Africa for exactly that purpose.

"I went to South Africa because I wanted to experience working with different types of animals, especially the dangerous kinds," explains Nadia. "I was selected to volunteer at a private game reserve called Kwantu, where I had the opportunity to work with vet students and vet technicians.
"At Kwantu they considered my farming background to be equivalent to that of a veterinarian, so I was able to treat an abscess on an elephant's elbow, do health checks on sheep, small monkeys and ponies, and do an autopsy on a sheep. I fed cheetahs, tigers and lions that were in a rehabilitation centre and also had the privilege of feeding and playing with elephants."
Nadia was also able to offer assistance beyond caring for the animals. "Kwantu was building a corral for their beef cattle and they were having trouble making it work, so I actually got to help design a better plan for them and provide suggestions on which materials to use. I also helped develop a conservation plan to accommodate the elephants and wildebeest, which are decreasing the game reserve's natural resources more quickly than anticipated."
Nadia traveled on her own, which was scary at first. But she met so many great people along the way and experienced so many incredible moments that it was well worth it. Needless to say, it was a trip she'll remember forever.
"I watched lions make their kills in the wild. I tracked rhinos, giraffes and hippos. I stood on the very edge of the continent. I bungee jumped from the highest bridge bungee in the world. I visited a penguin beach. It was incredible."
Nadia came home with the new skills and knowledge she was hoping for, but also some insight she hadn't been expecting.
"Africa has helped me to think outside the box. With so many other competitive businesses out there, you need to be innovative and not afraid to step outside your comfort zone.
"When things don't work out the way you planned, it's important to keep an open mind to come up with a creative way to make it work."
Nadia plans to incorporate everything she learned in Africa into her future business. She is well on her way to making her dream come true.