Amanda Luxton
Amanda Luxton travelled a lot when she was little, her father was in the navy, and as an adult she keeps moving around the world in her time off work.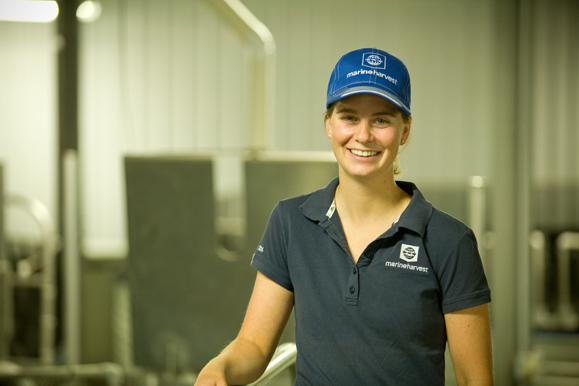 Amanda was born in Victoria, British Columbia, while her father was stationed there. One of her early family memories is crossing Canada in a truck, from west to east coast. She grew up in Nova Scotia.
She returned to Vancouver Island to live in 2013, after being recruited by Marine Harvest from Dalhousie University.
The freshwater technician has made the most of her camp schedule at Dalrymple freshwater hatchery – taking her time off to travel and explore the island and beyond. This schedule has allowed Amanda to visit Mexico, Hawaii, Australia, and parts of Europe.
From her home in Campbell River, she's taken many road trips down the west coast of the USA, most recently to catch a Blue Jays game in Seattle.
"I like road trips because you have the freedom of stopping wherever you want," Amanda says.
Often her trips serve a dual purpose of seeing her family who are willing to travel to meet Amanda in various locations. Her brother works for the Royal Canadian Navy in Halifax, and her parents own land in West Branch, Nova Scotia.
"I loved animals and wanted to be a vet, which is what I originally went to school for, but after a while I realized it wasn't for me, so I studied animal science at Dalhousie. It wasn't until I took my first aquaculture course that I considered a minor in aquaculture and a career in the industry."
"A lot of what I learned was instantly applicable, especially in water quality monitoring and the operation of recirculating aquaculture systems."
Amanda's hard work and dedication have paid off with a recent promotion to supervisor at Marine Harvest's Big Tree Creek hatchery. She's looking forward to starting the new role in December, but she'll miss the freedom of travel when she starts a regular five-and-two shift schedule.
Reprinted with Permission from Marine Harvest Canada