News
»
Go to news main
Agriculture students advance to international competition
Posted by
Stephanie Rogers
on April 21, 2016 in
News
By: Katherine Doyle
Have you ever wondered how you could get more protein in your diet? Third year Faculty of Agriculture students Holly Fisher and Hartley Prosser have the solution for you – although it may not be one you've considered before.

Bugs. Mealworms, to be more specific.

Utilizing insects as a source of protein has been gaining a lot of popularity in recent years. "People are starting to see the possibilities of it, rather than get grossed out by it," says Hartley.

Holly and Hartley have worked hard over the course of the past year to develop their own mealworm flour under the name 3MEALS. At the moment, their manufacturing process involves freeze drying.

"We freeze dry the mealworms, and then take out the fat, which gives us a high protein product with a long shelf life. Afterwards it's ground up into a fine flour," Holly explains.

However, they are currently working on a new processing method with Perennia in an effort to further refine their technique.
 
According to Holly, mealworm production is fairly efficient.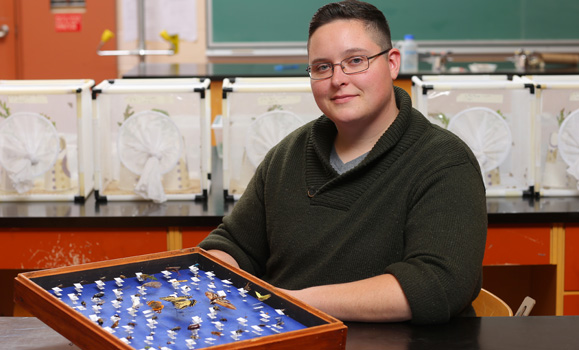 "Generally, it takes 20,000 mealworms to make 1 kg of our flour. The mealworms are very easy to grow. They really don't need much space, and only need a minimal amount of inputs, which we are trying to source from otherwise unusable material."

A third of the global population is already consuming insects, so introducing a product such as 3MEALS flour would not be difficult in other places around the world.

"What we have been suggested to do, is speak with disaster relief programs that need a high quality, low weight protein source to send to places in need. Since shipping actual meat is not an option, it may be of value for these programs to send insect protein powders. This avenue is something we plan to explore in the future, and it seems like a great idea for 3MEALS."

The duo are hopeful other markets will open up in the future. Although some may shy away from including insects in baking or supplements, those brave enough to try the mealworm flour will find that it has a smooth, nutty flavour to it – similar to walnuts.

Holly first became interested in entomophagy (eating insects) after giving a two-hour presentation on the subject in her Agriculture and Contemporary Issues class.

"This allowed me to explore a current agriculture topic and discuss it with the class. Since I was planning on studying entomology, I decided to pick the topic of consuming insects, and was absolutely blown away by the possibilities of using insects as a food source," Holly explains.

"After giving that discussion, Prof. Tennessen decided to start the IFF group (Insects for Feed and Food), and we have been working on entomophagy related projects since then. Speaking for Hartley, he was in the Starting Lean class with me, and enjoyed the idea, so decided to join the 3MEALS team. He also has a keen mind to sustainability, and controlled environments, which worked well with business concept and research."

The duo have competed in various business model competitions. Through "Starting Lean", a course offered by Cultiv8, they recently attended the internal business model competition for Dalhousie University – and took home top honours. Winning the competition secured them a place at the International Business Model Competition to be held in Seattle, Washington at the end of April.

Both are extremely excited about the opportunity to compete at the international level.

"I've never been to Seattle, so I'm excited to explore the West Coast," says Hartley.

Holly can't wait to see the business pitches presented by other teams.

"It'll be interesting to see entrepreneurship from across the world, and watch how they formulated their business ideas."

Each business model team will be placed into groups where they will take turns pitching their idea to a panel of judges. Each round includes a new panel of judges.

In addition to winning the internal business model competition for Dalhousie, the two also claimed first place at the Cultiv8 Pitch Ag competition.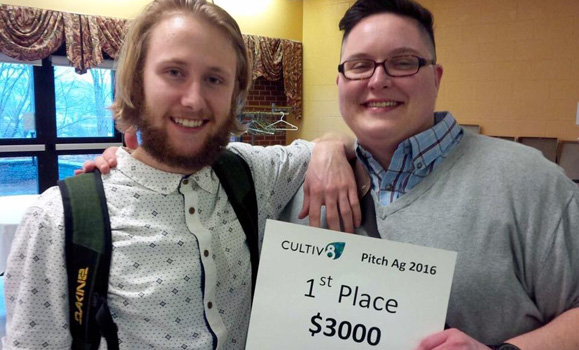 Right now they are working with a business accountant to help walk them through the business process.

"He is taking on doing the paper work for us. This will help us focus on the production side of the business, as we mitigate these other details," Holly adds. "We will be using the funds from the Norman Newman Center for Entrepreneurship, which is available to the students who take part in the Starting Lean class, to pay for the process."
 
All of this wouldn't have been possible without Cultiv8, the AC's agricultural sandbox.

"It has been such an amazing experience for both of us, and has helped us take ideas forward that we would never have been able to without their assistance. As a science student, I never really thought about entrepreneurship, but Cultiv8 made me realize just how much I enjoy business. Plus it opened my eyes to the business potentials that can be found throughout our campus, such as insects as a food product," explains Hartley.

Best of luck to you both!