Ethiopia ATTSVE
Agricultural Transformation Through Stronger Vocational Education
The Challenge
Food insecurity has been a serious problem in Ethiopia for decades.  Since 2007, Ethiopia has achieved strong economic growth, making it one of the highest performing economies in sub-Saharan Africa. Yet it remains one of the world's least developed countries. Ethiopia's economy is dependent on agriculture, which contributes 45 percent of the GDP and 90 percent of exports. However, just five percent of land is irrigated, and crop yields from small farms are below regional averages. Market linkages are weak, and the use of improved seeds remains limited. Despite these challenges, agriculture-led economic growth that is related to improved livelihoods and communities can become a long-lasting solution to Ethiopia's food insecurity and chronic poverty.
Dalhousie's role
To combat this situation, experts from Dalhousie University's Faculty of Agriculture are helping Ethiopia reshape agricultural education, improving production, strengthening communities and helping the country not just survive, but thrive in the 21st century global food economy, recognizing that education is the key to initiating change.
Description 
ATTSVE, one of the largest international development projects ever awarded to a Canadian university, is helping to evolve the country's agricultural practices and education beyond its subsistence-based foundation towards a market-focused system.
Aim
The project will better support not only the economic strength of the country and its citizens, but also the ATVETs as they continue to strengthen their role as  reputable providers of modular certificate training and customized short-course trainings that meet the unique needs of farmers, rural youth, women, agri-industry and broader rural communities.
Focus: Four colleges: Maichew (Tigray region) Nejo (Oromia region), Woreta (Amhara region) and Wolaita Soddo (SNNPR)
Funding: The project is funded by Global Affairs Canada and their contribution to the project is approximately $18 million CAD.
Timeline:  2014 to 2022.
Impact
Below are a collection of Case Studies highlighting the work on ATTSVE on achieving different project outcomes over the past 8 years.

Increasing the capacity of ATVETs to deliver high quality education
Through the work of Dalhousie and project partner staff  procuring and transporting over $3M of equipment and facility upgrades, all four target communities are benefitting from access to improved facilities on their ATVET campuses; infrastructure allowing consistent access to the internet allows connection with the wider world, and smart classrooms are being used to enrich teaching practices.
Increasing the capacity of ATVET instructors to teach effectively
The ATTSVE project, through the work of 97 Canadian and Ethiopian implementing partner staff, has provided 1801 hours across 49 trainings and workshops over six years to 1352 ATVET instructors and staff across Ethiopia. Trainers develop modern interactive training sessions in pedagogical methods, technical subjects, business management, gender mainstreaming and strategic planning and create user-friendly manuals/online modules and a training cascading plans so that information is available to all on the campus and to new staff upon arrival.
New Agriculture curricula being used across Ethiopia
One of ATTSVE's most crucial achievements, especially in the view of the Ethiopian Ministries of Agriculture, and Science and Higher Education, was spearheading the development of a National standardized curriculum focused on new Occupation standards and modern Agricultural curriculum for all of Ethiopia. The curriculum is now being used in almost every ATVET in Ethiopia, by over 15,000 students each year.
Gender transformative approaches
Economic and social success are limited without focusing on women as key practitioners of change in Ethiopia's transforming economy. ATTSVE is forwarding thinking on gender transformative approaches, including leadership, networking, and mentoring for students and staff.
New Agricultural businesses
ATTSVE has supported over 400 graduating students to develop their own agricultural businesses in a range of industries including poultry, cooking oil production, juice processing and dairy.
Projects like this bring us together to face our challenges together.  Agriculture is a global industry, and we are a global community." Dr. David Gray, Dean, Dalhousie Faculty of Agriculture (Photo: Nick Pearce Photos; ATTSVE Team)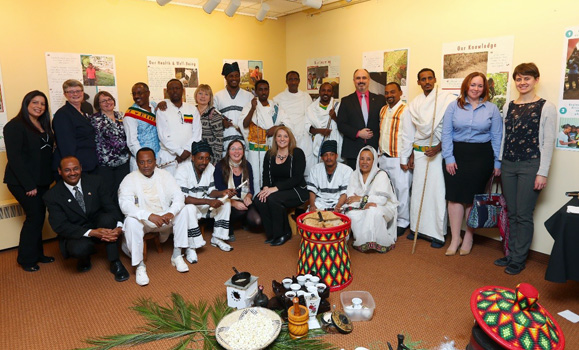 Quick Facts
Primary Goal: To increase the supply of male and female graduates from the selected ATVET colleges who have the necessary skills and knowledge required by the labour market, to develop the commercial agriculture sector in Ethiopia. The Faculty of Agriculture and other implementing partners will use their expertise in applied learning models to support Ethiopian instructors in delivering education programs aligned with the country's national priorities.

Focus: Four colleges: Maichew (Tigray region) Nejo (Oromia region), Woreta (Amhara region) and Wolaita Soddo (SNNPR)
Funding: The project is funded by the Government of Canada through the Department of Foreign Affairs, Trade and Development (DFATD) and their contribution to the project is approximately $18 million CAD.
Length of Project: 5 and 1/2 years (including inception mission and wrap-up), from March 2014 to December 2019.
Expected Results: Increased capacity at the ATVET colleges in a variety of areas, including strategic planning, gender mainstreaming, environmental management, business development and income generation. There will also be increased instructor development and training, new curriculum, more opportunities for institutional networking and partnerships, and improved infrastructure, ICT, library and laboratory facilities. There will also be increased relationships between Ethiopia and Canada research collaboration opportunities, a special topics course and student internship opportunities in Ethiopia.