How to set up your Dal email

Your Dal email is where all official university information is sent, including details about orientation, residence, tuition fees, health plan, and more! Your profs will likely use it a fair bit for class info as well. It is important that you use it and make sure you check it regularly! 
After you pay your admissions deposit, you can set up your email (allow one or two days for your payment to be received). 
How to set-up your Dal email account:
Step 1: Know your Banner number  
Your Dal ID begins with B00 and appears in the top right hand corner of your acceptance letter. It is the primary way we identify you as a student.
Step 2: Activate your Net ID
Your Net ID is a unique username that you will use to login to Dalhousie's online services.
To activate your Net ID:
Go to my.dal.ca. Click 'New User?' and follow the instructions.
Click 'Activate my NetID' and follow the instructions.
Register a password reset email:
This will help you recover your password if you forget it during your time at Dalhousie.
Click 'New User?' and follow the instructions.
Step 3: Use your Dal email
Now that you have your Net ID and password, you can access your Dalhousie email account by logging into MyDal and clicking on the waffle icon at the top left corner of your computer screen (shown in the image below) then clicking on "Outlook". If you are accessing your email through MyDal on your mobile device, the waffle icon will be located on the right hand side.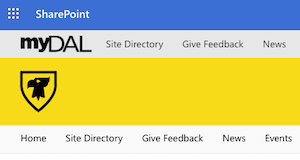 Other useful info
Set-up Office 365 on your laptop or device
To learn more about your Dal email and how to set-up Office Outlook 365, visit the Email webpage.
Create a personalized Dal email address
Learn how to create a personalized dal.ca email address (with your name instead of a bunch of numbers!).