Dalhousie Post‑Care Tuition Waiver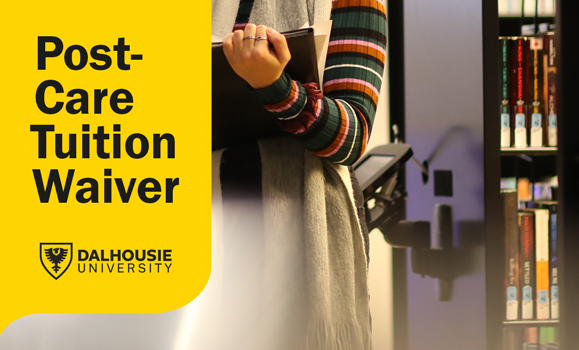 Tuition Waiver for Former Youth-In-Care 
The Dalhousie Post-Care Tuition Waiver supports former youth-in-care who face unique and multiple barriers to accessing and persisting in post-secondary education. 
The Dalhousie Post-Care Tuition Waiver is strongly aligned with Dalhousie University's established accessibility, equity, diversity and inclusion goals to broaden and expand programming for historically and currently marginalized groups (e.g. Indigenous/Aboriginal students, especially Mi'kmaq; African/Black Students, especially African Nova Scotian; those with (dis)abilities – visible and invisible; Lesbian, Gay, Bisexual, Transgender and Queer); as these groups are over-represented in the Canadian child welfare system.
10 tuition waivers will be awarded to former youth-in-care for undergraduate studies at Dalhousie within the 2023/2024 academic year.
There will be transition programming and intentional supports designed to serve this particular student cohort that are offered alongside the tuition waiver to ensure comprehensive supports for student success.
Eligibility
You have lived in care for a minimum of one year (cumulative or accumulated). Preference will be given to individuals with experience in the Nova Scotia child welfare system – including Mi'kmaw Family and Children's Services of Nova Scotia – as defined by the Children and Family Services Act, 2017; or have been in receipt of services through the Department of Community Services, Youth Services Program, or equivalent to in your province or territory.
Preference to student completing their first undergraduate degree.
You are enrolled in or admitted to an undergraduate program with tuition and associated fees in the upcoming academic year. 
You demonstrate financial need. 
You are not already receiving financing for your education.
You consent to a Release of Information for verification processes of your time in care.
How to apply
Post-Care Tuition Waiver application for continuing undergraduate students is open for the 2023-2024 academic year. Eligible candidates are encouraged to submit their application as soon as possible. The review process is ongoing and will close when post-care waivers are filled.
The Application for the 2023-2024 year is now open.