Events, By Category and Date:
»
Go to news main
Pushing Boundaries: A Film Series About What We Owe Other Animals
Posted by
nte
on January 22, 2018 in
Films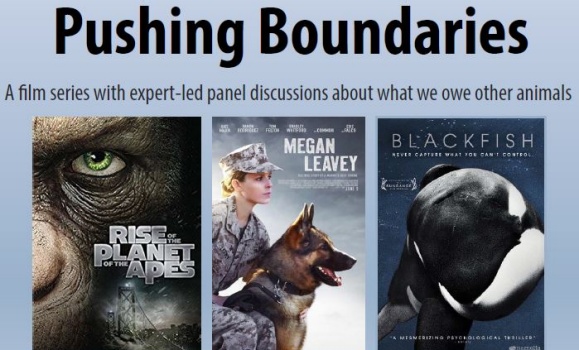 Free public screening with moderated, expert-led discussions afterwards.
All events hosted at the Halifax Central Library, 5440 Spring Garden Rd.
Come early, seating is limited. No reservations.
Download event poster
Join the Facebook page for 1. Rise of the Planet of the Apes │2. Megan Leavey │3. Black Fish
Synopsis
Do animals deserve to be treated by us with care, compassion, and respect? Are there any relevant differences between us and them that could justify treating them differently from how we should treat one another? Movies both shape and reflect our beliefs in these matters. Come view these topical films and join the discussions facilitated by experts in animal ethics, psychology, biology, and behavioural sciences.
Moderator
Timothy Krahn (moderator & organizer) is a researcher at NTE Impact Ethics (Faculty of Medicine, Dalhousie). Timothy has worked as a knowledge translation consultant for the Faculty of Medicine; as a programmer, lead organizer, and repeat moderator for many of NTE's public education events (including many film series); and as a published researcher in the fields of neuroethics, disabilities studies, film, and mental health ethics. He also edits the film review section of the Journal of Ethics in Mental Health.
Panelists
Andrew Fenton (panelist, all 3 films): his specialties include animal bioethics, animal philosophy (animal epistemology and the philosophy of animal minds), and neuroethics (the philosophy and ethical implications of contemporary neuroscience). He has published in all of these areas in such journals as Biology and Philosophy, the Cambridge Quarterly of Healthcare Ethics, The Monist, and the Journal of Animal Ethics as well as in such books as the Philosophy of Behavioral Biology (Kathryn Plaisance and Thomas Reydon (eds), Springer) and the Routledge Handbook of Philosophy of Animal Minds (Kristin Andrews and Jacob Beck (eds), Routledge). Dr. Fenton has broad experience in facilitating discussions with the public on pressing ethical issues. He has been on public panels discussing such topics as human genetic modification and autism as well as participating on several film panels organized by Novel Tech Ethics themed around various topics in neuroethics.
Simon Gadbois (panelist, Megan Leavey): his specialties include animal behaviour and learning, canid neurobiology, and neuroendocrinology. He has published in such journals as Behavioural and Brain Sciences, Behavioural Processes, Marine Environmental Research, Canadian Journal of Diabetes, and Canadian Journal of Zoology as well as in such books as Domestic Dog Cognition and Behavior (Alexandra Horowitz (ed), Springer). Dr. Gadbois has extensive experience talking to members of the public media on such topics as conservation and wildlife management.
Mary Lee Jensvold (panelist, Rise of the Planet of the Apes): her specialties include primate ethology as well as animal intelligence, communication, language, and culture. She has published in such journals as Animal Cognition, Human Evolution, the Journal of Applied Animal Welfare Science, Journal of Comparative Psychology, and Zoo Biology as well as in such books as The Cognitive Animal: Empirical and Theoretical Perspectives on Animal Cognition (Marc Bekoff, Colin Allen, and Gordon Burghardt (eds), MIT Press). Dr. Jensvold's experience with various publics includes being the Primate Communication Scientist for the Fauna Foundation and Friends of Washoe.
Lori Marino (panelist, Blackfish): her specialties include animal cognition and behaviour, animal welfare, and cetacean neurobiology. She has published in such journals as Animal Cognition, Anthrozoos, Evolution, International Journal of Comparative Psychology, Journal of Animal Ethics, Proceedings of the Royal Society B, Proceedings of the National Academy of Sciences, and Society and Animals as well as in such books as Ethics of Captivity (Lori Gruen (ed), Oxford University Press), Oxford Handbook of Animal Studies (Linda Kalof (ed), Oxford University Press) and The Politics of Species: Reshaping our Relationships with Other Animals (Raymond Corbey and Annette Lanjouw (eds), Cambridge University Press). Dr. Marino's extensive experience with various publics includes interviews in public news media and her scholar activist work for the Kimmela Center for Animal Advocacy and the Whale Sanctuary Project.
Topics for disucssion (forthcoming)
Discussion questions (forthcoming)
Further reading (forthcoming)
Advocacy and support groups (forthcoming)

Sponsored by La Société royale du Canada Atlantique/The Royal Society of Canada Atlantic Open Academy Program and Social Sciences and Humanities Research Council of Canada.