Left to right: SRES Director Michelle Adams; Brian Minns, Vice-President, Sustainable Investing at Addenda Capital; MREM students Victoria Sandre and Eamonn McGuinty; Michel Jalbert, Executive Vice-President, Business Development and Client Partnerships, Addenda Capital; Josée Yelle, Director, Client Service, Marketing and Communications, Addenda Capital, Interim Faculty of Management Dean Vivian Howard.

For Mickey Gilchrist, the economic reality of climate change is already upon us.

"As a society, we need to transition now," says Gilchrist, a graduate student in the School for Resource and Environmental Studies (SRES). "That means seizing opportunity by designing new business models and investing in new ways of doing business — sustainably."

"To do so, both government and business — large and small — need the kinds of solid research-driven data to generate sound decisions and encourage innovation in climate-smart projects, products and services," adds the Ottawa native, who's graduating this spring with his Master of Environmental Studies (MES).

And thanks to the new Addenda Capital Sustainability Program and Bursary, Gilchrist is helping build this new knowledge.

Funding research into sustainable investment

As part of its generous five-year gift to SRES, Addenda funds research grants that examine the link between climate change considerations and investment in sustainable businesses. With matching financial support from MITACS — a national, not-for-profit organization that partners with industry and universities to support research-based innovation — top graduate students like Gilchrist can focus full-time on their topics of choice.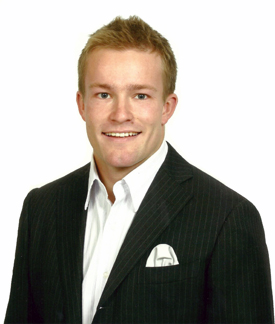 For Gilchrist (left), who brings a background in economics and banking to the project, the first step is identifying current knowledge gaps in sustainable financing and investment. "It's like building a foundation," he explains. "We need to figure out what questions have already been answered, which ones haven't and what we need to know to move the discussion forward."

With the results of this in-depth literature review, Gilchrist will narrow his focus to between five and 10 research areas of greatest impact for addressing and adapting to climate change through sustainable investment. "Ultimately, I want to pinpoint the most salient environmental, social and governance issues — and opportunities — for those involved in sustainable investment," he says.

Besides informing Addenda's ongoing research priorities, Gilchrist's work will feed into and support an upcoming SRES "cluster" funding application to MITACS, covering a number of different projects relating to financial and policy implications of climate change.

"Over the next five years, the Addenda/MITACS research will help generate the kind and quality of data that can shape public policy, leading to better-informed decisions on what initiatives to support, subsidize and otherwise encourage," says Michelle Adams, interim director of SRES.

Ten years ago, for example, the Nova Scotia government made the strategic decision to invest in energy efficiency. "That one shift in public policy resulted in thousands of new jobs and dozens of new companies to meet the demand for auditors, installers and suppliers of products and services," says Adams. "And every new business development represents an investment opportunity."

Supports for students studying sustainability

For Addenda Capital, sustainable investment practices already underpin the investment management firm's decision making.

"As a company, we know our commitment to sustainability makes us better investors by integrating environmental, social and governance factors into investment decisions," says Michel Jalbert, executive vice-president, business development & client partnerships. "While the work of capable, dedicated scholars like Mickey Gilchrist will inform our own research, the new knowledge generated by the Addenda partnership with Dalhousie will ultimately help build a more sustainable financial market."

The Addenda gift also provides bursary support for SRES students. This year, two scholars shared the inaugural award: Victoria Sandre, whose work focuses on the enabling factors for clean energy transition, particularly at the community level, and Eamonn McGuinty, who's interested in impact investing and sustainable international development.

So what's next for Mickey Gilchrist? A mortgage specialist with National Bank since 2010, he's ready now to explore the investment side of the business.

"With my banking and client experience and now the sustainable investing knowledge, I'd like to blend these strengths into either a face-to-face or a research role to help clients — and Canadians — navigate the challenges and opportunities of climate change."