John
Kearney
Adjunct Professor: Marine Affairs Program; Principal: John F. Kearny and Associates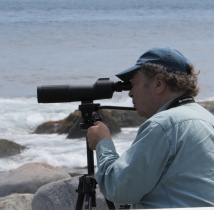 Email:
john.kearney@ns.sympatico.ca
Phone:
(902) 761-3449
Mailing Address:
John F. Kearney & Associates 120 White's River Road Carleton, Nova Scotia Canada B5A 5R2

John Kearney is an environmental anthropologist who has over 35 years of experience in environmental and community-based research in the Americas and Asia. He is currently the principal of John F. Kearney and Associates.
Dr. Kearney has established strong interdisciplinary credentials working in the social and natural sciences. His work in the natural sciences in recent years includes avian baseline studies and environmental assessments for wind energy projects in Nova Scotia. His current research focuses on using acoustic monitoring to identify critical stop-over habitats for migratory birds in Nova Scotia, and the impact of forest and coastal industries on those habitats.
In the social sciences, he is the former founder and leader of the Centre for Community-Based Resource Management at St. Francis Xavier University. He has extensive experience working with fishing people and coastal communities throughout the world and has worked for the World Forum of Fisher People, the Canadian Council of Professional Fish Harvesters, the Maritime Fishermen's Union, the Fundy North Fishermen's Association, and Bear River First Nation.
He has published in the social and natural sciences, including seminal works in the area of community-based co-management and social-ecological systems. He is the co-author of a book on the relationship between science, community, and democracy.
Read Dr. Kearney's scholarly publications on Google Scholar, or avian assessments at wind energy facilities.