Dr.
Ramon
Filgueira
Assistant Professor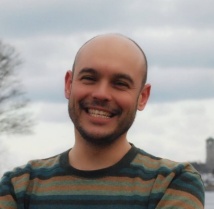 Email:
ramon.filgueira@dal.ca
Phone:
902-414-1218
Mailing Address:
Life Sciences Centre (Room 807), 1459 Oxford Street, PO Box 15000 Halifax NS B3H 4R2 Canada

Research Topics:
Ecosystem-Based Management
Ecosystem Approach to Aqauculture
Ecological Modelling
Aquaculture
Filter-Feeder Trophic Interactions
Filter-feeder Bioenergetics
About
Ramón Filgueira grew up in Galicia, Spain, where seafood has dominated the economy, culture and diet of the Galician people for centuries. He completed his undergraduate degree in Marine Sciences at the University of Vigo in Spain. He then went on to complete a Master diploma in Environmental Management and Sustainable Development at the University of Valencia. Ramón obtained his PhD in Marine Sciences from University of Vigo on the ecophysiology of mussels. In 2008, he came to Canada for a postdoctoral fellowship in ecosystem modelling at Dalhousie University. In 2012, Ramón began a postdoctoral fellowship at the Gulf Fisheries Centre, Fisheries and Oceans Canada. There he developed ecosystem models of aquaculture sites that could be used for marine management decision-making. Ramón joined the Marine Affairs Program at Dalhousie University in March 2016.
Latest Honours
Prix d'Excellence 2015
Fisheries and Oceans Canada
The Prix d'Excellence is Fisheries and Oceans Canada's most prestigious award
honouring individuals and teams who have made exemplary contributions to the department. I received this award in 2015 as a member of the "Aquaculture Carrying Capacity Team" (Gulf Fisheries Centre) in the category of "Excellence in Policy and / or Science". This award is a recognition of our ecosystem modelling work in Atlantic Canada and its application to assessing and improving the sustainability of shellfish aquaculture sites.
Research Interests
Ramón's research goal is to promote the sustainable management of coastal aquaculture sites and to define ecological indicators to monitor ecosystem health. His primary research tool is ecosystem modelling which is applied to ecosystem-based management. The models are used to study key aquaculture-environment interactions, explore ecosystem functioning, and establish precautionary monitoring thresholds. Ramón uses modeling tools such as scenario building and optimization to generate alternative and objective management strategies that can be used to inform marine spatial planning (MSP). MSP is a process in which ecological, social and economic aspects converge with the ultimate goal of improving coastal management according to an ecosystem approach.
Ramón's research interests tackle several aspects of bivalve and finfish aquaculture such as phytoplankton-bivalve trophic interaction, carrying capacity, organic loading, coastal connectivity, pest and disease transmission, implications on climate change, and various others.
Selected Publications (*indicates student author)
Past, present and future: Performance of two bivalve species under changing environmental conditions Steeves L*, Filgueira R, Guyondet T, Chassé J, Comeau LA Frontiers in Marine Science 5:184 (2018)
Integrating the concept of resilience into the ecosystem-based approach for bivalve aquaculture management Kluger L, Filgueira R, Wolff M Ecosystems 20:1364-1382 (2017)
Vertical particle fluxes dominate Integrated Multi-Trophic Aquaculture (IMTA) sites: implications for shellfish-finfish synergy Filgueira R, Guyondet T, Reid GK, Grant J, Cranford PJ Aquaculture Environment Interactions 9:127-143 (2017)
Bivalve aquaculture environment interactions in the context of climate change Filgueira R, Guyondet T, Comeau LA, Tremblay R Global Change Biology 22:3901-3913 (2016)

Informing Marine Spatial Planning (MSP) with numerical modelling: a case-study on shellfish aquaculture in Malpeque Bay (Eastern Canada) Filgueira R, Guyondet T, Bacher C, Comeau LA Marine Pollution Bulletin 100:200-216 (2015)
An integrated ecosystem approach for assessing the potential role of bivalve shells as part of the carbon trading system Filgueira R, Byron CJ, Comeau LA, Costa-Pierce B, Cranford PJ, Ferreira JG, Grant J, Guyondet T, Jansen HM, Landry T, McKindsey CW, Petersen JK, Reid GK, Robinson SMC, Smaal A, Sonier R, Strand Ø, Strohmeier T Marine Ecology Progress Series 518:281-287 (2015)
Implementation of marine spatial planning in shellfish aquaculture management: modelling studies in a Norwegian fjord Filgueira R, Grant J, Strand Ø Ecological Applications 24(4):832-843 (2014)
Physiological indices as indicators of ecosystem status in shellfish aquaculture sites Filgueira R, Guyondet T, Comeau LA, Grant J Ecological Indicators 39:134-143 (2014)