Research Project
Conducting Scientific Reseach in First-Year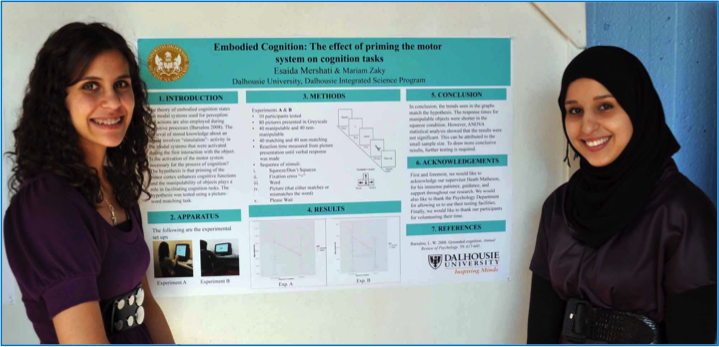 This is perhaps the most unique aspect of the program. Each year, during the winter term, over 20 research projects are conducted by Integrated Science students. The projects are completed in small teams of 2-4 and students actually get to work in a Dalhousie research laboratory.
Under the supervision of their research project supervisor, students conduct research as a member of an inter-disciplinary team and integrate findings and techniques across several disciplines. Goals are to conduct a detailed study and present findings in oral presentations to the class, to summarize the team's study on our website, and to write a formal scientific paper.
Learn to write and think like scientists
Students experience the entire research process, from developing a research question, to collecting and analysing their data, and finally to presenting their research findings in individual written reports, team conference presentations, and a team scientific poster session on the last day of class, open to the public.
Their fall term classes will have prepared them for tackling a research project. They will have learned how to write and think like scientists, to collect and analyse data, and to evaluate and synthesise information, in addition to learning important concepts in the different fields of science.
Research practice early in your degree
The research project enables students to practice these skills, and learn new ones, with the help of a variety of research project workshops in the winter term. For example, students learn how to find and evaluate scientific sources of information on their research question, prepare a research proposal, write a formal scientific paper, and summarize results in formal oral presentations and scientific posters.
Check out project topics from previous years.
Now that I'm doing my honours project I can see how our project in Integrated Science was like a mini honours project in first year, and I was really well-prepared for my honours thesis this year
- Nicole Marshall, Integrated Science Alumna