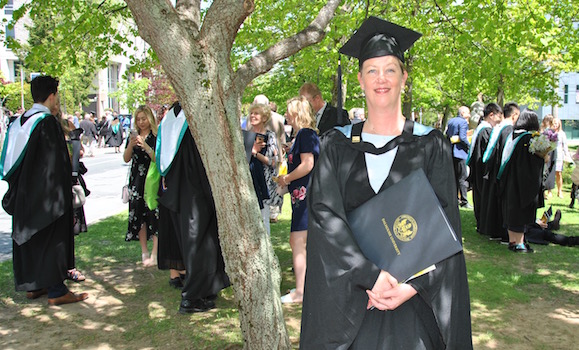 "I feel like I know what I'm talking about now. I understand how different kinds of organizations work in a way I didn't before," says Jessica McCarthy after proudly earning her Master of Public Administration (Management) degree this spring. She completed the program in three and a half years while working full-time, and says she now has an insightful overview of everything you need to know about working in the public sector in Canada.
It wasn't a straight line for Jessica to get to where she is now. She initially wanted to be a veterinarian, but after spending some time working in the field she decided it wasn't for her. Instead she studied political science at Western University, after which she landed a job in media relations for TD Corporate public affairs. "It was like boot camp for someone who's 26," she says. "It was a pretty intense job with the Globe and Mail and the National Post leaving messages on your voicemail every day."
Jessica eventually found her way into the public sector and now manages a research centre that is a collaboration of Dal, the IWK and the NSHA. She hadn't planned on going back to school, but now working in academia, she was surrounded by colleagues with postgraduate degrees. "It's really viewed favourably to do graduate studies," she says, so she decided to enroll in the MPA(M) program.
Jessica found she was immediately taking what she had learned in class and applying it at work. "At times, it would be hard to distinguish between work and school because we view a lot of real-world examples in each course," says Jessica. "In a lot of cases we were writing summaries of how the method would be a way to improve our organization."
Jessica plans to stay at her current job and hopes to use her new skills to broaden the reach of the research centre into different areas of work. In fact, she has already brought in one of her professors to train the staff on an intensive program evaluation she covered in class. "It was so valuable, and it was in an area of expertise that interested us," she says.
Recalling her favourite part of the program, Jessica speaks fondly about the opportunity to meet her classmates during the three-day in-class intensive sessions at the end of each course. "Everyone wants to talk, everyone has an example they want to share. The interaction with peers was really invaluable," she says. "If it was 100 per cent online it would not have been the same."
Jessica would like to advise new students not to spend all their time focussed on getting everything done without taking time to enjoy it. "Give yourself a break and don't stress out too much. Try to take it in and enjoy it as you're learning." When asked if she would have listened to her own advice three and a half years ago, she laughs and admits, "No."